Whiteout: NYC man sues museum for 'racist,' 'Aryan' Jesus Christ in famous paintings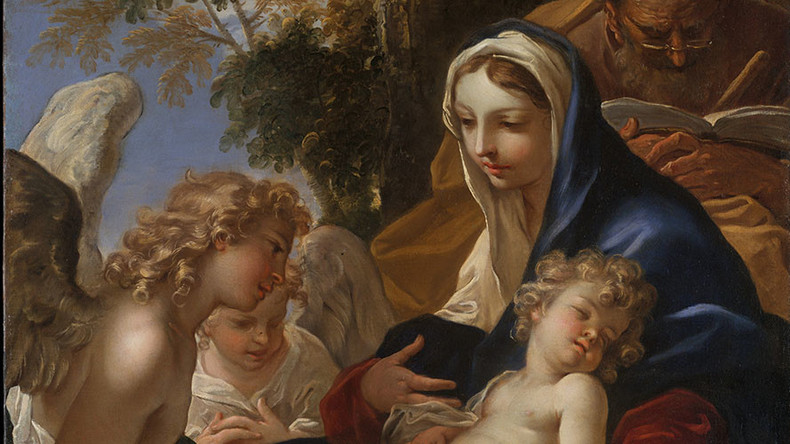 A New York City man is suing the Metropolitan Museum of Art for the "offensive aesthetic whitewashing" in Renaissance-era artwork that depicts Jesus Christ as not a native Middle Easterner but as a white, blond-haired man.
Justin Renel Joseph, 33, included four paintings displayed at the world-famous museum in his lawsuit in Manhattan Supreme Court, saying the "racist" works portray Jesus Christ as an "Aryan" man when in reality, he had "black hair like wool and skin of bronze color." He said the discrimination represented in the paintings is grounds for removal, the New York Post reported.
Joseph, acting as his own lawyer, said he experienced "personal stress" from the paintings "The Holy Family with Angels" by Sebastiano Ricci; "The Resurrection" by Perugino; "The Miracle of the Loaves and Fishes" by Tintoretto; and "The Crucifixion" by Francesco Granacci.
Joseph said the paintings are particularly disturbing to him since he himself has black hair and bronze-colored skin.
"The implication that someone who possesses physical features like the plaintiff could not be the important historical and public figure of Jesus Christ... caused the plaintiff to feel, among other things, rejected and unaccepted by society," Joseph said in court filings.
He told the New York Post that the paintings in question represent an "extreme case of discrimination," and that his legal claim is based on one of the most important anti-discrimination laws in American history.
"They completely changed his race to make him more aesthetically pleasing for white people," he said. "I'm suing a public venue which by the Civil Rights Act of 1964 can't discriminate on a protected basis."
The Metropolitan Museum of Art, or the Met, told the Post that the paintings have historical and artistic worth, and must be remembered as a product of their time and place.
"When they were painted, it was typical for artists to depict subjects with the same identity as the local audience. This phenomenon occurs in many other cultures, as well," said Elyse Topalian, a Met spokeswoman.
Though the exact skin color or race of Jesus Christ is ultimately unknown, he is believed to have been a Jew from what is now Palestinian territory of the Middle East. Thus, many scholars agree that he must have looked "Arab," with olive or brown-hued skin. Artists of the past have taken license to depict Jesus in various ways, said Doug Jacobsen, a professor of church history and theology at Messiah College.
"People in every culture portray Jesus looking like people they knew," Jacobsen told the Associated Press in 2013 amid a public dust-up, involving Fox News personality Megyn Kelly, over the race of Christ. "They depict him as one of their own."