Dozens of police cars & cops lock down California mall after robbery causes panic & confusion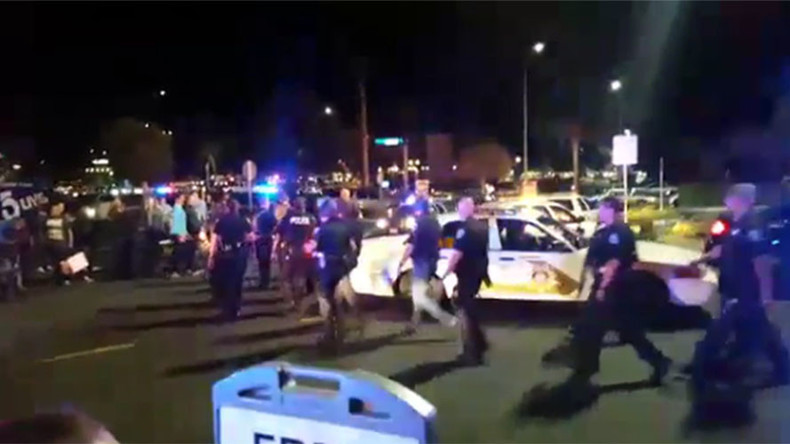 Shoppers confused the sound of breaking glass with gunfire and fled in panic after three robbers wearing ski masks and armed with hammers smashed the counters of a jewelry store in a Riverside mall, only 15 miles from the San Bernardino terror attack that killed 14 people.
A helicopter hovering above the Galleria of Tyler showed dozens of police cruisers parked outside the mall. According to the Riverside Press-Enterprise, over 30 police vehicles responded, including several from Rialto and San Bernardino. The helicopter, flying very low in the neighborhood, reportedly urged residents over its loudspeaker to stay indoors.
Three suspects are still at large after robbing the jewelry store Sunday night.
READ MORE: FBI investigates San Bernardino shooting as 'act of terrorism'
A video of the robbery shows a man in a black sweatshirt and a ski mask brutally smashing a display case at a Ben Bridge jewelry store, with witnesses fleeing in terror.

Some described how terrified shoppers began to panic as dozens of police officers stormed the mall.
"The first thing that went through my mind was, 'Oh, God, we're under terrorist attack,'" Erica Muschara told the Los Angeles Times. "Everyone was screaming and running. I grabbed my niece and we were directed by MAC workers into a storage room with a lock and bulletproof doors. There were 24 people in there, including some children who were trembling and crying."

According to Riverside police, the assailants used sledgehammers to smash counters at the jewelry store around 6:30 p.m. Shoppers then reported hearing what they thought was a hail of gunfire, but turned out to be the sounds of smashing glass.

Police said the robbery triggered a massive police response because of initial reports of a shooting.
Lissette Medina, who was in the mall when the robbery took place, said women were kicking off their high heels to run faster, and shoppers dropped their bags and took off.

"I called 911 and the line was busy. I tried again and I got through and the person said there were shots fired, please get out of the mall. People were tripping over each other. Several people were trampled. No one tried to help anyone else get up," she told the LA Times.

Dozens of police locked down the Southern California shopping mall, and shoppers had to stay put for about an hour as officers investigated. After it was confirmed that the suspects had fled the mall, cops went store to store to ensure that no one inside was hurt. They then let everybody go.