Playing with food: Thieves pelt police with frozen shrimp while trying to break up chase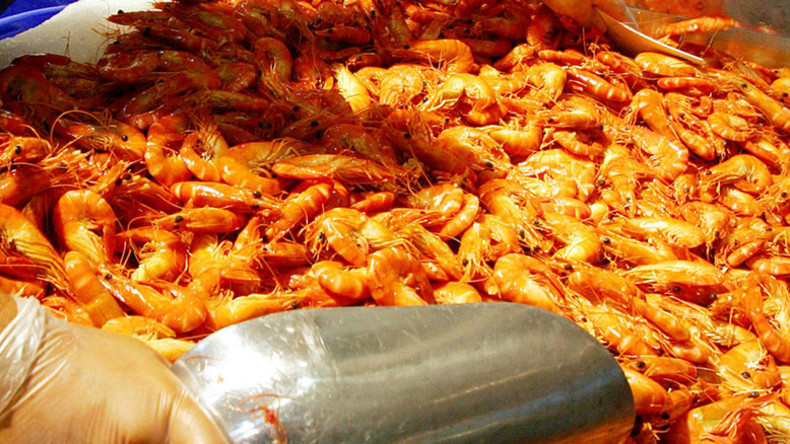 A group of thieves tried to escape a police chase by throwing frozen shrimp at law enforcement. The "seafood bombardment," however, turned out to be futile. The police pursuit, which also involved gunfire, ended with the suspects crashing their truck.
Atlanta police were called in early on Wednesday morning after receiving a 911 call reporting that a truck driver was being carjacked in the Clayton County community of Ellenwood, CBS46 reported.
It later emerged that a group of three suspects had broken into an 18-wheeler trailer while its driver was asleep. This is when police spoiled the seafood lovers' plan. The thieves were nearly caught loading boxes of shrimp from the trailer to their truck.
The men tried to flee the scene, triggering a blockbuster-film-like police chase with gun shots ringing as tires squealed. That's when one of the suspects attempted a rather unique way of stopping the pursuit: a shrimp dump. He started throwing boxes of frozen seafood at the police. Apparently, after realizing that it was not helping, the suspect jumped off the vehicle. He is still reportedly at large.
The pursuit of the rental truck continued until the truck flipped over onto a railroad track near Double Bridge Road and Front Street.
"The truck turned over on the railroad tracks, as you can see, there was one subject inside the vehicle. As our officers approached, gunfire was exchanged. No one was hit," said Atlanta Police Captain. T. Griffin.
One of the two suspects managed to flee on foot. Police arrested the driver, who remained inside the truck and engaged in a shootout before finally surrendering to the officers. He was identified as Mario Keen, 37.