'Surreal': First responder to San Bernardino massacre describes 'unspeakable carnage'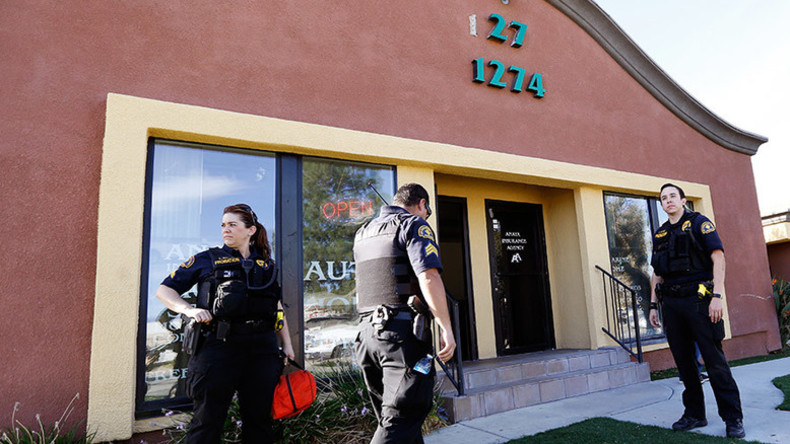 Lieutenant Mike Madden was on his lunch break when he got the call. Less than a mile away, 35 victims of the mass shooting were dead or dying, a "tragedy I'd never experienced," the 24-year veteran San Bernardino officer explained to reporters.
"Just out of pure luck, because the information was evolving so rapidly, I happened to pull into the right location," Madden said, describing what it was like to be the first on scene.
"Although we train for it, it's something you're never actually prepared for."
READ MORE: What we know about the 14 deceased San Bernardino victims
Still thinking there was an active shooter in the building, Madden set to "assemble an entry team, and enter into the building to engage the active shooter."
"This mindset and this type of training became indoctrinated in us after the Columbine incident," he said, fighting back tears.
"This is a tragedy I have never experienced in my career...but everyone who responded knew their job was to bring calm to chaos" Com. Madden

— SB County Sheriff (@sbcountysheriff) December 4, 2015
"As we entered into the conference room, the situation was surreal," Madden recalled. "It was unspeakable, the carnage that we were seeing. The number of people that were injured and unfortunately already dead."
In addition to the gory scene, fire alarms and sprinklers created a chaotic environment. Madden also recounted the moans and wails of the victims. Those factors compounded the difficulty of the task at hand.
"You have to be clear in your orders," Madden said. "The initial 50 people did not want to come to us. They were fearful and they were in the back hallway area, and that actually heightened my concern and my fear that potentially the suspects were in that hallway holding them hostage and waiting for us to enter into the hallway."
Even after it was clear the people were not being held hostage, it still wasn't easy getting them outside to emergency medical technicians.
"We had to tell them several times, come to us, come to us. And ultimately they did, and once that first person took the motions forward, it opened the floodgates and everyone wanted to come and get away from that as quickly as possible," Madden said.