What we know about the 14 deceased San Bernardino victims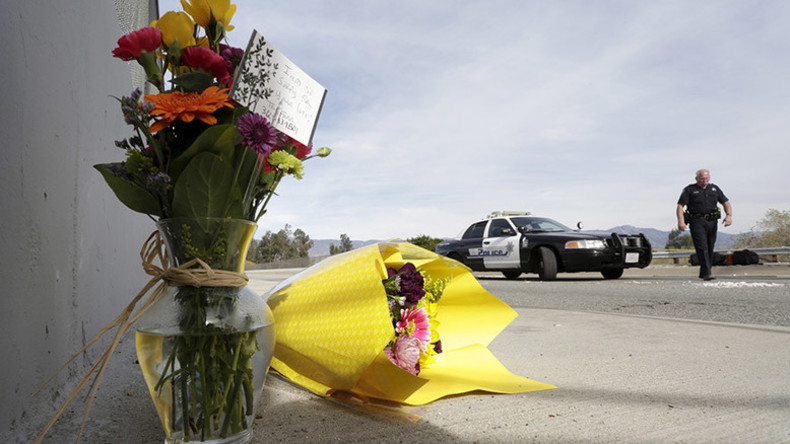 The San Bernardino County Sheriff's Department released the names of all 14 people killed in the shooting rampage at the Inland Recreational Center. The oldest victim was 60 and the youngest 26.
"This shooting has caused each victim's family, friends and co-workers, along with the first responders, to suffer an enormous personal tragedy. We must stand strong and offer support to each individual affected by this senseless attack," Sheriff John McMahon said.
Authorities said a man and woman wearing masks and bearing assault rifles opened fire on a holiday gathering of San Bernardino County employees around 11 am on Wednesday. Fourteen people were killed and 21 wounded, police said.
Isaac Amanios
Amanios, 60, was married with three children. A female family member called Amanios "an amazing father, brother, an amazing everything." In a brief conversation with a reporter, the woman, who asked not to be named, said Amanios worked for the county health department.
On Twitter, Nat Berhe, a safety for the New York Giants NFL team, said Amanios was his cousin and "a great human being."
"Just got word that one of my cousins was among the 14 killed yesterday, I'm so sick right now," Berhe said in a Twitter post.
Robert Adams
Also killed in the attack was Robert Adams, 40, who married his high school sweetheart, Summer, and had one daughter, Savannah, according to Jenni Kosse, a family friend who spoke with the Los Angeles Times.
Kosse said the love he had for his family was infectious. "When you saw the three of them together, you just wanted to jump in the middle and think 'I want to have fun, too,'" Kosse said.
Bennetta Bet-Badal
Iranian-born Bennetta Bet-Badal, 46, fled Iran to avoid Islamic extremism and the persecution of Christians that followed the Iranian Revolution. She arrived in the US at the age of 18, first living in New York City before moving to California and marrying her husband Arlen Verdehyou, a police officer, the San Bernardino Sun reported.
The Sun reported the couple moved to Rialto and had three children, aged 10, 12 and 15. She was a health inspector for the county. The couple, religious Roman Catholics, was married in March 1997.
"There is no reason for evilness," Arlen Verdehyou said in an interview. "You just have to be strong for each other."
Verdehyou said he and his wife exchanged texts at 8 am on Wednesday. He said he had withdrawn money from the bank to do some Christmas shopping. He told her to have a great day. Bet-Badal left the house excited about a present she was scheduled to reveal to her supervisors and co-workers at their annual meeting at the IRC.
"She decorated a beautiful Christmas tree," her husband said.
In the statement issued to the news media, the family said: "It is the ultimate irony that her life would be stolen from her that day by what appears to be the same type of extremism that she fled so many years ago."
Harry Bowman
Bowman was described as an intelligent man who loved his two daughters, aged 15 and 11, according to family member Bill Kraft of Aurora, Illinois, the LA Times reported.
"Death at its best is hard to take. This type of death is extremely hard to take, especially when you have young children," said Kraft. "There is no way you are going to make them understand."
Sierra Clayborn
Clayborn, 27, a graduate of University of California, Riverside, worked as an environmental health specialist for San Bernardino County.
"I love hanging out with my friends and I love my blooming career in public and environmental health," she wrote on her Facebook page. "I am dedicated to enjoying my new life, that God so graciously gave me, so I thank Him… and live life to the fullest. I love my life."
She was energetic, thoughtful, and always smiling, said Mary Hale, manager of the apartment complex where Clayborn had lived, to the LA Times.
"When I think of Sierra, only one word comes to mind: She was a lady," Hale said. "That's not a word I use lightly. She was a super, super lady."
Hale told The Times that Clayborn had frequently told her how much she loved her job. "She was dedicated to her profession, and she loved the opportunities to meet different people," Hale said.
Clayborn shared an apartment with her boyfriend, Hale said.
Juan Espinoza
Espinoza, 50, was also an inspector for the county health department, his daughter Jerusalem said in a brief telephone interview, according to the LA Times. The family received the news this morning, she said.
Espinoza is survived by his wife, a daughter, and a son.
Aurora Godoy
Godoy, 26, was the youngest victim. She had been married to James Godoy for three years. She also worked for the county.
Shannon Johnson
Johnson was 45 and worked for the county for more than two decades, including over 10 years as an environmental health specialist. He enjoyed music and the arts.
Larry "Daniel" Kaufman
On the day of the massacre, Kaufman, 42, was dropped off by his boyfriend at the Inland Regional Center, where he ran a coffee shop in the building. Kaufman had worked at the center for about five years.
His boyfriend, Ryan Reyes, said they traded cell phone texts and photos throughout the morning until around 10:30 am. An hour later, Reyes received a text from his sister: "Hey Ry does Daniel work at the Regional Center in Sb? Check the news," reported the Los Angeles Times.
Reyes texted Kaufman: "Call me ASAP!" There was no reply.
Reyes described a harrowing 22 hours receiving conflicting reports on the status of his boyfriend. Initially, he was told that Kaufman was alive, had been shot in the arm, and would survive. Reyes went to the local community center where the survivors were being brought. Reyes said they were the last family remaining at the community center, and there was still no word of Kaufman's whereabouts. He gave a description of him to officials, who said the bodies of the dead were still at the crime scene.
Not knowing Kaufman's status, Reyes took four over-the-counter sleeping pills and fell asleep and didn't find out his boyfriend was dead until 10:38 on the next morning.
Reyes had been with Kaufman for nearly three years. They were free spirits and shared a love of horror movies.
Damian Meins
A Facebook group for alums of Notre Dame High School in Riverside identified Damian Meins, 58, as another victim of the shooting. Meins, who graduated from the school in 1975, left behind a wife and two daughters, according to a post on the group's page.
"His death has affected our community deeply. He will be missed," the post stated.
Meins had worked in two Riverside County departments over the years, a statement from the county's executive office said. Most of his 26-year career was spent with the Riverside County Environmental Health Department, the statement written by Ray Smith read.
Tin Nguyen
Nguyen, 31, was a food inspector for the county.
"She was the most amazing person anyone could ever meet," Kim Oanh said on social media. "Her heart was bigger than the sun, and her personality was addicting."
It's been reported by family members that Nguyen was preparing to wed in 2016, according to the San Bernardino Sun.
"My heart is with her family as we mourn the death of such an incredible being and a beautiful life cut short," Oanh added.
Nicholas Thalasinos
Nicholas 52, was a health inspector who worked for the county for 13 years. His wife of nine years, Jennifer Thalasinos, said Nicholas dropped her off at work, as he did every day.
"So I actually got an extra hug and a kiss before he left," recalled Jennifer, according to the LA Times. "So I'm just holding on to that."
She told KTLA that she had a gut feeling she had lost her husband when she first heard about the shooting. Jennifer tried calling and texting him throughout the day but received no response. Detectives delivered the news later that night.
"The waiting was excruciating just because you still, you're still trying to hold out hope even though, like I said, I pretty much knew," she said.
Nicholas worked with the shooting suspect, Syed Rizwan Farook.
"They got along," she told the Times. "As far as I know, [Syed] got along with everybody. That's what's so shocking."
Both were Messianic Jews. Her husband wore tzitzit, traditional fringe tassels as well as a tie clip with the Star of David. He was a devout believer and had been born again a couple of years ago. Jennifer said her husband was aware Farook was a Muslim but had never mentioned that his co-worker had any extreme views.
"If he would have…my husband would have had something to say."
Nicholas is also survived by two adult sons.
Yvette Velasco
Velasco, 27, was confirmed among the dead in the mass shooting that took place Wednesday. She worked for the San Bernardino County Public Health Department.
Michael Raymond Wetzel
Wetzel, 37, was a father of six who was attending the meeting being held at the center.
"So many prayers needed," Wetzel's wife, Renee, wrote in a Facebook post on Wednesday afternoon. "My husband was in the meeting where the shooting happened. I have not been able to get in touch with him. Please please pray that he is ok."
His wife learned he was dead eight hours later.
Wetzel coached boys and girls soccer, and leaves behind children ranging in age from mid-teens to an infant.