'Chokehold on the city': NYPD arrests 20 protesters demanding justice in Eric Garner death (VIDEO)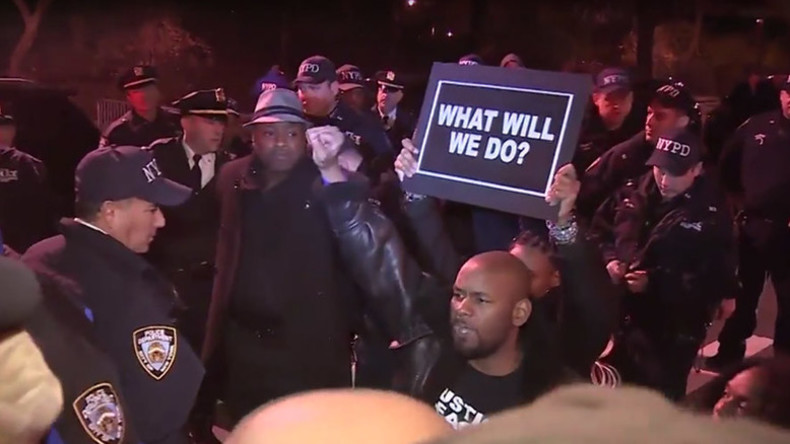 About 20 protesters have been arrested in New York City, where activists filled the streets of Manhattan chanting a police officer's name and demanding justice for Eric Garner, who died in July 2014 after being gripped in a chokehold by law enforcement.
The Justice League advocacy group listed at least 20 names of demonstrators detained during the protest.
It said that all of its members were arrested "in a span of 10 mins" and taken to the 33rd precinct in Washington Heights.
The protest, organized by the Justice League, marked one year since a grand jury failed to indict NYPD Officer Daniel Pantaleo. In July 2014, he tried to arrest Eric Garner, a 43-year old black man, for allegedly selling loose cigarettes. Garner died after being put in a chokehold.
Protesters gathered at two locations on Thursday – in Staten Island at the site of the chokehold and outside Gracie Mansion, the NYC mayoral residence.
The Justice League has vowed to "put our city on a chokehold until we receive justice."
Dozens of people gathered outside Gracie Manson, holding up banners reading "Black Lives Matter" and chanting slogans.
They reportedly tried to shut down the street nearby.
Chanting Pantaleo's name, activists demanded the officer be stripped of his powers. Pantaleo, who is white, has been on modified duty since the day Garner died.
"As I contemplate this past year – a year full of upheaval and struggles for justice – I'm struck by what has changed: nothing," Garner's daughter Erica wrote in her HuffPost blog.
Protesters arrested outside the mayor's house have since been released from the 33rd precinct, the League said.
Erica Garner reportedly attended the protest in Staten Island.
On December 3, 2014, a Staten Island grand jury said it had not found enough evidence to indict Officer Pantaleo, even though his encounter with Garner had been recorded on a cell phone. A video shot by an onlooker shows Garner, who was black, telling the officers to leave him alone and refusing to be handcuffed.
Officer Pantaleo, who is white, placed his arm around Garner's neck to take him down. Garner is heard gasping and saying, "I can't breathe!" 11 times before losing consciousness.
The city medical examiner found the chokehold had contributed to Garner's death, declaring it a homicide. This, however, did not influence the grand jury's decision.
Civil rights groups and the city's public advocate sought to review the testimony heard by the grand jury, but they were denied by a four-judge panel in Brooklyn in July. This November, the New York Court of Appeals declined to release of transcripts to the public, ruling that the grand jury's decision making process must remain secret.
Garner's death has spurred protests around the country against law enforcement's treatment of black men.