Gulf oil spill: Manslaughter charges dropped against BP Deepwater Horizon supervisors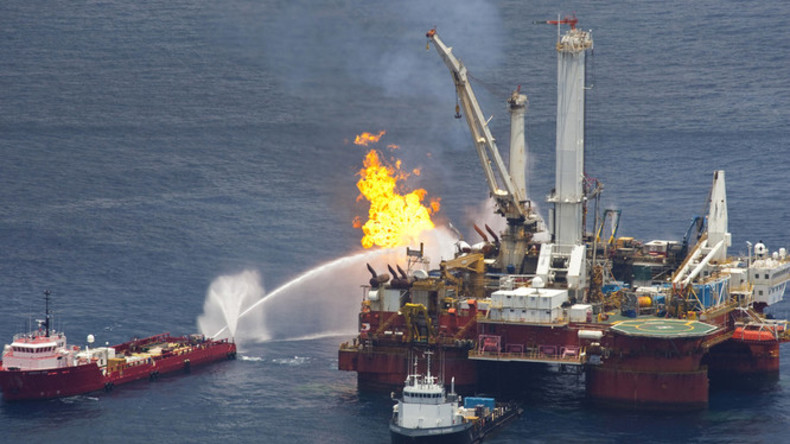 Two BP supervisors onboard the Deepwater Horizon oil rig that exploded in the Gulf of Mexico in 2010 will not serve any jail time after manslaughter charges against them have been dropped against. The disaster killed 11 employees.
The move, agreed upon by federal prosecutors and a New Orleans judge on Wednesday, relieves rig supervisors Donald Vidrine and Robert Kaluza – the highest ranking supervisors onboard the rig – of the 11 counts of involuntary manslaughter they were each previously facing.

According to the Justice Department, the felony charges were dropped "because circumstances surrounding the case have changed since it was originally charged, and after a careful review the department determined it can no longer meet the legal standard for instituting the involuntary manslaughter charges."

The verdict was a complete turnaround from three years ago, when US Attorney-General Eric Holder personally announced the manslaughter charges in New Orleans.

However, the government's decision didn't sit well with Keith Jones, the father of Gordon Jones, an oil rig worker that died in the explosion.
"As a result of this court proceeding today, no man will ever spend a moment behind bars for killing 11 men for reasons based entirely on greed," Jones told reporters after the hearing.
Vidrine did plead guilty to violating the Clean Water Act and "admitted to negligently causing the massive oil spill that resulted from the disaster," Justice Department spokesman Peter Carr said in a statement. The misdemeanor will likely result in 10 months of probation and 100 hours of community service.
Kaluza intends to fight the same charge, with his attorney Shaun Clarke stating that "he's charged with a crime he didn't commit, and he's going to go to trial to clear his name," AP reported. The case is set to go to trial in February 2016.
The decision follows the resolution of two other cases involving BP employees, both of whom also managed to escape jail time – one with an acquittal and the other with probation.
David Rainey, a former BP executive, was acquitted in June of manipulating calculations to produce a far-too-low estimate for the amount of oil spilling into the Gulf of Mexico. A judge also dismissed a related charge alleging that he had obstructed a congressional investigation into the spill.
A former BP engineer was also able to cut a deal with prosecutors after being convicted of obstruction of justice in 2013 for deleting text messages. Instead of the possible 20 years in prison he faced, he pleaded guilty to a lesser charge and was sentenced to just six months of probation.
Meanwhile, a former manager for Halliburton Energy Services – BP's cement contractor on the rig – was sentenced to just a year of probation for destroying evidence.
BP has so far paid out $55 billion following numerous settlements and compensation payments related to the spill, which lasted nearly three months and polluted around 16,000 miles of coastline from Florida to Texas. More than 8,000 animals died as a result of the spill, which leaked three million barrels into the Gulf of Mexico, according to the National Park Service.