Obama rejects plan to close Gitmo, build another on US soil – report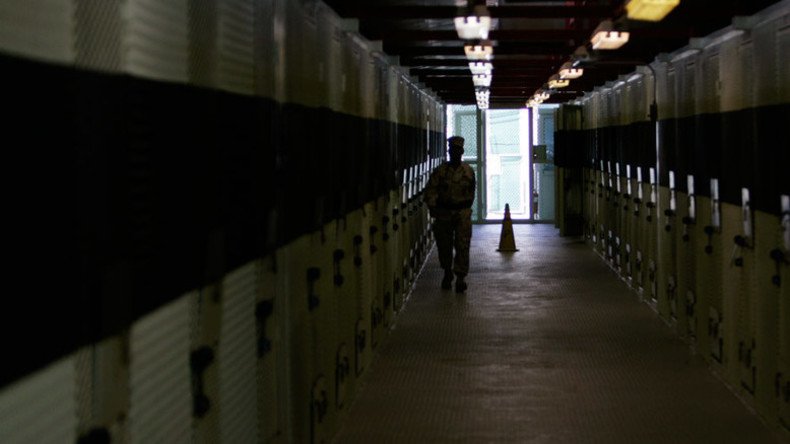 The Pentagon's latest cost estimate for closing the Guantanamo Bay detention center in Cuba and building an alternative in the US comes in at more than half a million dollars – a price tag the White House considers too costly, according to a new report.
The Pentagon has estimated it would require close to $600 million to close the prison and a onetime capital investment of as much as $350 million in construction costs, according to US officials cited by the Wall Street Journal.
The proposal was considered and rejected during a November 10 meeting between President Barack Obama and Defense Secretary Ashton Carter. The Pentagon has since been tasked with revising its plan, said unnamed US officials.
Obama is said to have asked the Pentagon to concentrate on reducing the overall operating costs of the new US facility, which would include engineering for strict security measures, rather than bringing down construction costs. Other factors such as transportation logistics and housing for military police who would be guarding the detainees are also being assessed.
Commander Gary Ross, a Pentagon spokesman, told the Journal that the administration was working to finalize plans to close Guantanamo "safely and responsibly."
President Obama promised to close the prison during his 2008 president campaign but has been blocked by Congress. It was a point he reiterated in an interview that aired on Tuesday with French news outlet iTELE.
"Guantanámo continues to serve as a recruitment tool for jihadists, it is something we need to stop," Obama told iTELE, according to The Hill. "I will make this argument until my very last day as president."
The White House has often argued that Guantanamo cannot be closed without moving some detainees to US soil. An additional objection has been the high costs of operating the facility, which currently amount to about $400 million a year. According to Pentagon estimates, after the one-time capital expense, a new domestic detention center would only reduce the cost to $300 million.
Two years ago, Senator Dick Durbin (D-Illinois) calculated that the cost of housing a detainee at Guantanamo for a year was $2.7 million per inmate. The cost would drop to $72,000 a year per inmate at a US federal prison.
Regardless, the president faces stiff opposition from Congress on transferring Guantanamo detainees to US prisons, as it is currently barred from doing so. A 2011 congressional law prohibited the administration from spending money to move detainees to the US.
Though Obama recently signed a new annual defense policy bill, Congress added restrictions barring detainee transfers from the prison. However, Obama sought gain some wiggle room in a signing statement that claimed he had executive authority to circumvent Congress and close the facility because the congressional ban could violate his powers as commander-in-chief.
The White House is expected to send a plan to lawmakers for closing the facility in the coming months.
The detention camp was established in 2002 shortly after the 9/11 World Trade Center terror attack. It once housed 779 extra-legal detainees. Currently, 107 detainees are still held at Guantanamo. Forty-eight are eligible for transfer to other counties, but the remaining 59 detainees are considered too great a security risk to be released.
Over the summer, in response to a congressional request, a small team of Pentagon officials was researching the most suitable place to house the remaining prisoners in the US, as well as the costs involved in doing so. The plan would reportedly include transferring nearly 50 detainees to US prisons for indefinite detention without trial. Another group of 10 detainees would be prosecuted by military commissions, according to Reuters.
You can share this story on social media: