'Pockets of ceasefires' may soon turn up in Syria – Obama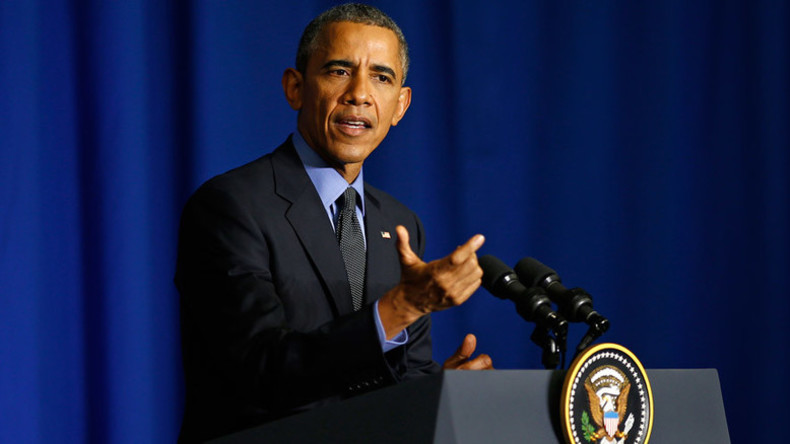 Ceasefire pockets can be created in Syria if the peace negotiations in Vienna result in an agreement that will be followed by parties on the ground, US President Barack Obama said.
Speaking at a news conference just before leaving the global climate summit in France Obama suggested that cease-fires may soon be established in some parts of Syria, following the achievements in the Vienna negotiations by US Secretary of State John Kerry and Russian Foreign Minister Sergey Lavrov.
"What can happen is if the political process that John Kerry has so meticulously stitched together, in concert with foreign minister Lavrov of Russia, if that works in Vienna, then it's possible given the existing accord that the parties have already agreed to, that we start seeing at least pockets of ceasefires in and around Syria," Obama told reporters.
Echoing the claims by US officials that Russian air strikes hit the Syrian "moderate opposition" more than Islamic State militants, Obama explained that these cease-fire "pockets" would protect the rebels supported by the US.

"That may mean, then, that certain opposition groups no longer find themselves subject to either Syrian or Russian bombing," he said. "They are then in a conversation about politics, and slowly we then are able to get everybody's attention... to where it needs to be, and that is going after ISIL in a systematic way."

Russia insists that its air strikes do not target opposition – only Islamic State. Even though Washington has been alleging the opposite from the very beginning of the Russian campaign, US officials have failed to produce any relevant proof, or cite any sources that can be verified.
Obama also repeated his frequent assertion that that Russia is welcome to the US-led anti-IS coalition, on condition that it stops supporting the Syrian government.

"I don't expect you're going to see a 180 turn on their [Russians] strategy over the next several weeks," Obama said.
READ MORE: Germany commits to anti-ISIS coalition, rules out cooperation with Assad
Russian President Vladimir Putin stressed it more than once that Bashar al-Assad is a legitimate president who has been elected by the Syrians, and that they alone can determine their country's future.
Russian air-to-surface military operation in Syria began September 30, upon the request from the Syrian government. More than 4,000 airstrikes that hit terrorist control centers, training camps and ammunition depots have been carried out since then, according to the latest data. In addition, the Russian Navy force in the Caspian Sea has also fired 26 Kalibr cruise missiles at Islamic State positions.

Russia has not targeted civilians or the so-called moderate opposition, Syria's ambassador to Russia confirmed to TASS.

President Putin called on creating a broad international coalition to fight terrorism in September at the United Nations General Assembly. He proposed discussions at the UNSC about a resolution aimed at coordinating forces to confront IS and other terrorist organizations, based on the principles of the UN Charter.

The US-led coalition carried out its first assault on the IS oil infrastructure on November 16, destroying 116 oil tanker trucks belonging to the group.
You can share this story on social media: