'Commercial scale' oil smuggling into Turkey becomes priority target of anti-ISIS strikes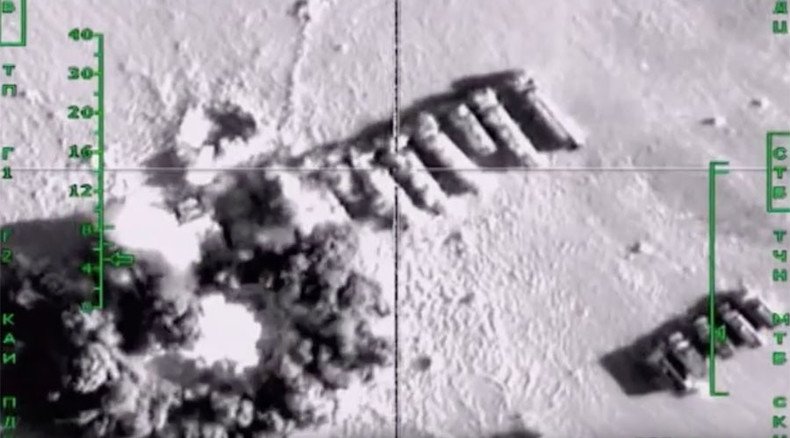 Islamic State's daring and impudent oil smuggling into Turkey should become a high-priority target in order to cripple the terrorist group, President Putin said, backed by French President Francois Hollande. Both agree that the source of terrorist financing must be hit first and foremost.
Commercial-scale oil smuggling from Islamic State controlled territory into Turkey must be stopped, Putin said after meeting Hollande in Moscow.
"Vehicles, carrying oil, lined up in a chain going beyond the horizon," said Putin, reminding the press that the scale of the issue was discussed at the G20 summit in Antalya earlier this month, where the Russian leader demonstrated reconnaissance footage taken by Russian pilots.
READ MORE: Ankara defends ISIS, Turkish officials have financial interest in oil trade with group - PM Medvedev
The views resemble a "living oil pipe" stretched from ISIS and rebel controlled areas of Syria into Turkey, the Russian President stressed. "Day and night they are going to Turkey. Trucks always go there loaded, and back from there – empty."
"We are talking about a commercial-scale supply of oil from the occupied Syrian territories seized by terrorists. It is from these areas [that oil comes from], and not with any others. And we can see it from the air, where these vehicles are going," Putin said.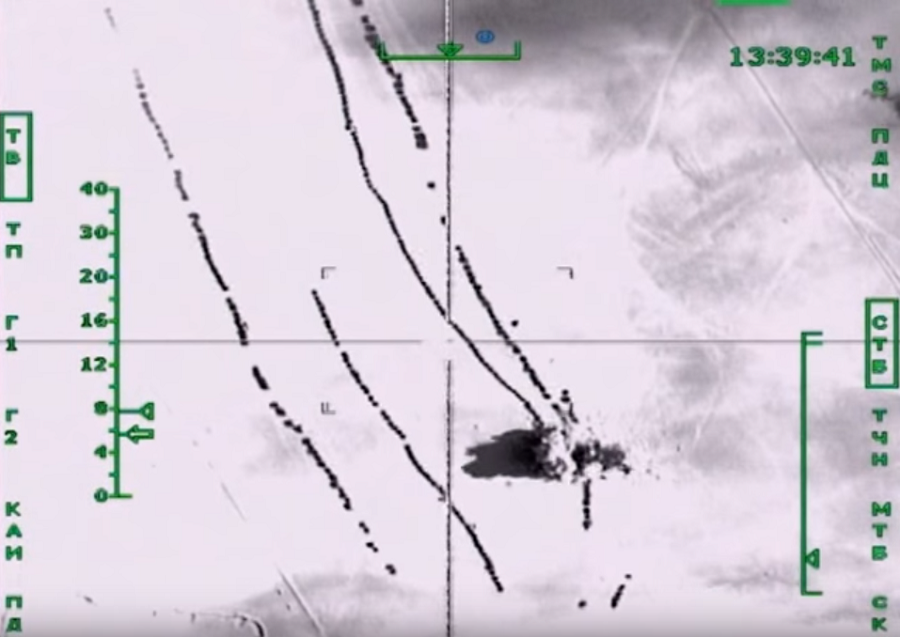 "We assume that the top political leadership of Turkey might not know anything about this [illegal oil trade]. Hard to believe, but it is theoretically possible," Putin said, adding that this however does not excuse Ankara from not stopping the illegal smuggling of oil.
Putin pointed out the lack of smoke from any fires or the existence of any commercial enterprises created to deal with the destruction of oil, which would be possible to find if the Turkish leadership is aware and is seizing and destroying smuggled products, as it claims.
"But if the top political leadership [in Turkey] doesn't know anything about this, let them find out. I can admit that there may be some elements of corruption, secret dealing, they should sort it out," said Putin.
Putin stated that sales of oil from ISIS are in direct violation of international law, and that the proceeds from 'black gold' cost innocent people their lives.
"In this respect there is a special UN Security Council resolution banning the direct purchase of oil from terrorists, because these barrels, that they supply, it is not just oil, there is the blood of our citizens, because from the money [received], terrorists buy weapons, ammunition, and then conduct bloody actions," Putin said.
However, the Turkish leadership is not rushing to investigate whether any of the ISIS oil smuggling routes end up in Turkey, with President Recep Tayyip Erdogan himself refuting any suspicions that Syrian oil might be getting into his country illegally as absolute "slander."
"Those who claim we buy oil from Daesh [ISIS] are obliged to prove it," Erdogan said earlier on Thursday in an attempt to shift the blame for ISIS oil profits onto Damascus. "If not, you are a slanderer. Shame on you!"
"ISIL sells the oil they drill to Assad. To Assad. Talk this over with Assad you support," Erdogan said, as cited by AFP.
READ MORE: Turkish newspaper editor in court for 'espionage' after revealing weapon convoy to Syrian militants
Putin reminded that ISIS claimed responsibility for a number of deadly terrorist acts throughout the world, including the Russian plane bombing in Sinai and the series of Paris attacks in mid-November.
After French President Francois Hollande's meeting with Putin on Wednesday, he said that the focus of the fight against terror should be the destruction of the Islamic State oil trade.
"It is necessary to hit ISIS training centers, to hit those centers where this terrorist army is being trained," Hollande said.
"But the main thing is to hit the sources of financing, which give [the terror group] life in the first place – first of all oil," The French leader emphasized.
The most effective way, the French leader said is to target "trucks that transport oil," transferring it to buyers on the black market, "thus giving ISIS uncontrolled amount of money."
READ MORE: 'Fighting common evil': Putin, Hollande agree to share intelligence on terrorist targets in Syria
The Russian Foreign ministry meanwhile wants Ankara to properly address reports of its alleged involvement with ISIS oil smuggling.
"We have a very large number of questions ... [for] the Turkish side in relation to information found in the media and social networks about the relationship with the terrorists on the oil business, all kinds of assistance to groups that carry out the relevant activities," said Russian Foreign Ministry spokeswoman, Maria Zakharova.
Meanwhile the Russian air force continues to engage terrorist targets in Syria and increasingly focusing on illegal terrorist oil smuggling. Between November 23 and26 the Russian air force carried out 134 sorties on 449 targets.
READ MORE: Terrorists 'stick to Turkish border', Russia to continue targeting them – Kremlin
"Russian aviation continues to strike refining facilities in the territories controlled by ISIS terrorist organization," defense ministry spokesman General-Major Igor Konashenkov told a media briefing on Wednesday. In the past few daysm Russian aircraft has destroyed oil trucks, refineries, and oil storage facilities in the provinces of Deir ez-Zor and Raqqa.
You can share this story on social media: