Ankara defends ISIS, Turkish officials have financial interest in oil trade with group - PM Medvedev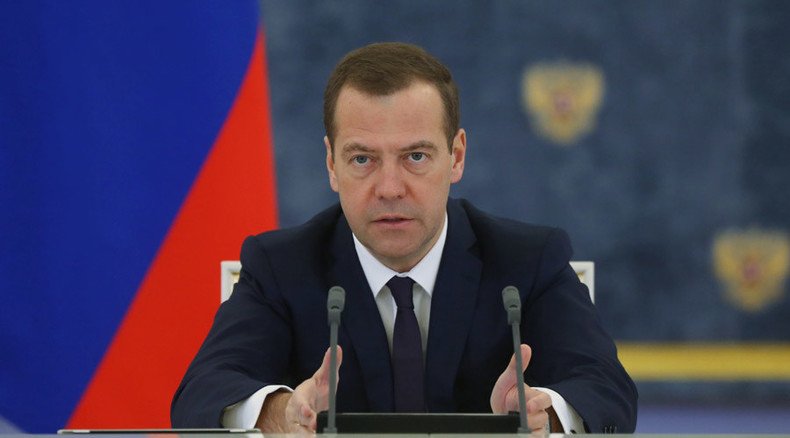 Some Turkish officials have 'direct financial interest' in the oil trade with the terrorist group Islamic State, Russian PM Dmitry Medvedev said as he detailed possible Russian retaliation to Turkey's downing of a Russian warplane in Syria on Tuesday.
LIVE UPDATES: Russian warplane shot down at Syria-Turkey border
"Turkey's actions are de facto protection of Islamic State," Medvedev said, calling the group formerly known as ISIS by its new name. "This is no surprise, considering the information we have about direct financial interest of some Turkish officials relating to the supply of oil products refined by plants controlled by ISIS."
"The reckless and criminal actions of the Turkish authorities… have caused a dangerous escalation of relations between Russia and NATO, which cannot be justified by any interest, including protection of state borders," Medvedev said.
According to the PM, Russia is considering canceling several important projects with Turkey and barring Turkish companies from the Russian market. Russia has already recommended its citizens not to travel to Turkey, citing terrorist threats, resulting in several tourist operators withdrawing tours to Turkey from the market.
Russia may further scrap a gas pipeline project, aimed at turning Turkey into a major transit country for Russian natural gas going to Europe, and the construction of the country's first nuclear power plant.
Turkey shot down a Russian bomber over Syria on Tuesday, claiming the aircraft had violated Turkish airspace. Russia says no violation took place and considers the hostile act as 'a stab in the back' and direct assistance to terrorist forces in Syria.
LISTEN MORE:
You can share this story on social media: