Shotgun formation? Police union urges NFL to drop gun ban for off-duty and retired cops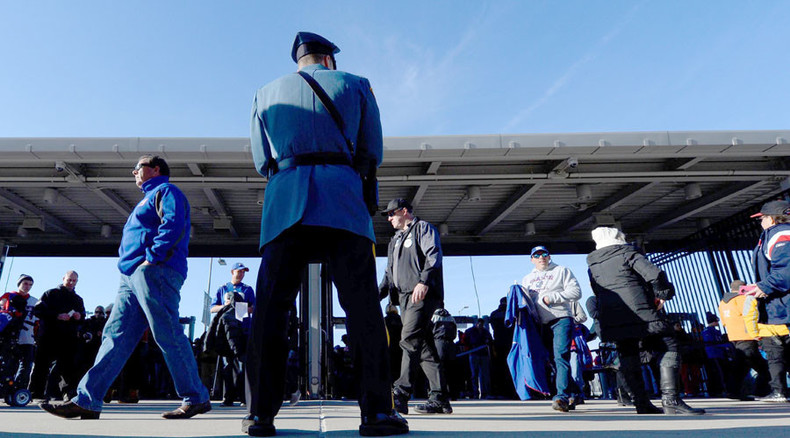 After nearly two years of the National Football League banning guns at its games, the largest police union in the country wants an exemption. More armed off-duty or retired officers would mitigate a terrorist attack like the one in Paris, the group says.
Chuck Canterbury, the president of the National Fraternal Order of Police, wrote a letter to NFL Commissioner Roger Goodell on November 20 that encouraged him to relax the policy prohibiting firearms at stadiums, claiming it "weakens the safety and security of NFL players, personnel and fans."
"The terrorist attacks and threats of attacks from organizations like the Islamic State of Iraq and the Levant (ISIL) are selecting targets based on the amount of death and injury they can inflict – mass murder and casualty events," the letter reads.
The NFL currently employs off-duty law enforcement officers and private security, as well as metal detectors, for all of its games. "Our procedures have been certified and designated by the Department of Homeland Security since 2008 as effective anti-terrorism technology," the league wrote after the November 13 Paris attacks.
That isn't good enough, according to the FOP letter, which states, "Law enforcement, even when working actively with highly skilled and trained security professionals, cannot be certain that all threats will be detected and neutralized."
Before the 2014 NFL season, league policy regarding guns was left to the discretion of each football team.
"We concluded that public safety inside NFL stadiums on game days would be best-served by the carrying of firearms by on-duty officers specifically assigned to work the game as part of the comprehensive public safety plan for the event," NFL spokesman Brian McCarthy told FoxNews.com. "This approach has been certified by the Department of Homeland Security under the SAFETY Act (Support Anti-Terrorism by Fostering Effective Technologies)."
"Off-duty officers attend games as spectators and are unknown to working law enforcement officers and security personnel," McCarthy said. "They may not have the same training and do not participate in the weekly preparation meetings. They are not included in the on-site chain of command. The well-intentioned display or use of gun could have serious unintended and potentially tragic consequences."
Police unions in Minnesota, Michigan, and New York have challenged the no-gun policy as well. Texas state law supersedes NFL policy, so off-duty or retired officers with concealed-carry privileges may enter designated areas there. In August, a Minnesota appeals court ruled against police who challenged the right of the NFL to prohibit guns at its games.