Protesters return to the streets over police shooting death of Laquan McDonald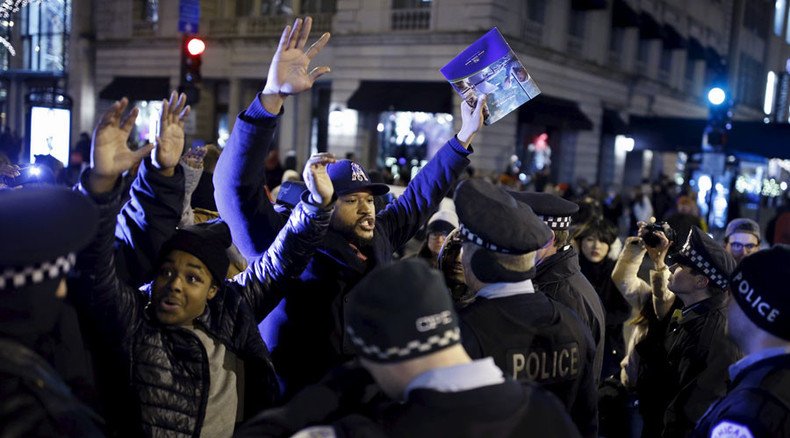 Members of a Chicago NAACP chapter protested outside City Hall, carrying coffins and demanding answers concerning the death of Laquan McDonald, a black teen. Meanwhile, bail for the officer charged in the shooting was set at $1.5 million.
Following days of protests down Chicago's "Magnificent Mile," which disrupted Black Friday shopping after a video was finally released showing the shooting of 17-year-old Laquan McDonald by a white police officer, activists rekindled their display of outrage and called for police reform on Monday.
READ MORE: 'Black Lives Matter not Black Friday!' Day of action across US over Laquan McDonald shooting
Protesters could be heard chanting "What do we want? Justice! When do we want it? Now!" and "Stop the cover-up! Sixteen shots!" referring to the number of times McDonald was alleged to have been shot by Officer Jason Van Dyke, according to NBC Chicago.
On Monday evening, a prayer vigil was also held outside the Chicago Police Department.
Several NAACP members called for police reform during a press conference that was held amid the protests, and reiterated their demand that Chicago Mayor Rahm Emanuel and Cook County State's Attorney Anita Alvarez resign.
NAACP President Cornell Brooks tweeted early on Monday afternoon that he had been arrested along with other protesters, though that post is no longer available.
Mayor Emanuel recently announced that more officers would be outfitted with body cameras as a result of the incident, with as many as 1,400 officers receiving the new technology. However, activists argue that is not enough, noting that the footage in the McDonald case was withheld for a year. The video was not released until after a court order and the officer involved was not charged until a few hours before the footage was made public.
The renewed protests also came as Van Dyke, 37, attended a bail hearing on Monday afternoon, before posting bond and being released. He had been in jail since Tuesday when he was charged with first degree murder. Later on the same day, dashcam footage of the deadly encounter was released.
The incident was first investigated by IPRA, an independent organization that reviews allegations against the Chicago Police Department. Activists such as Rose Joshua, president of the South Side Chicago chapter of the NAACP, say that the relationship between the organizations and law enforcement is too close, leading to favoritism towards police officers rather than victims, according to NBC Chicago.
Joshua said that city's NAACP chapters plan to file a complaint with the US Department of Justice concerning the IPRA.
You can share this story on social media: