'Black Lives Matter not Black Friday!' Day of action across US over Laquan McDonald shooting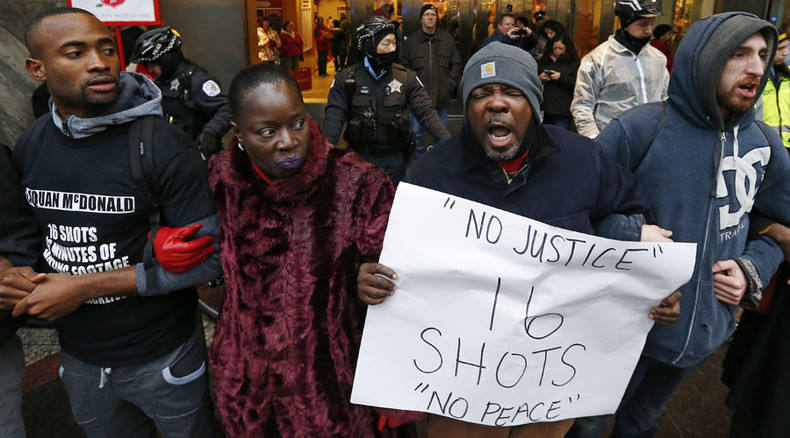 Hundreds of protesters blocked store entrances and shut down traffic in Chicago at the start of the holiday shopping season on the third day of action against police brutality. Similar solidarity events have been held elsewhere across the country.
The largest demonstration was in Chicago, marking the third day of action after City Hall released a dash cam video showing the fatal shooting of black teenager, Laquan McDonald, shot by police 16 times on October 20, 2014.
Black Friday has swiftly become a day when the coalition of Black Lives Matter, the Revolutionary Communist Party, Jesse Jackson's Rainbow PUSH group and grassroots black activists have taken and held ten blocks of a high-end retail district on the busiest shopping day of the year.
It took over a year for the Chicago police department and state prosecutors to investigate McDonald's death and over a year for the city's prosecutor to indict the police officer involved, and charge him with first degree murder.
Protesters stopped traffic throughout the day to express their anger at McDonald's death and the mishandling of the investigation. They chanted: "People getting shot while you shop!" and "13 months! 16 shots!"
Protesters argued that "Black Lives Matter, Not Black Friday" and demanded the resignation of Chicago's Mayor Rahm Emanuel, Chicago Police Superintendent Garry McCarthy, and the state's attorney Anita Alvarez.
Chicago police blocked off roads to accommodate the march down Michigan Avenue, while other officers formed a barrier between protesters and helped shoppers get through store doors.
But entrances were blocked at the Disney Store, Apple Store, Nike, Tiffany & Co., and Neiman Marcus, among others.
Dozens of Apple employees in red shirts stood in the store and watched through its windows as protesters linked arms to block anyone from entering, according to Associated Press.
Companion protests took place in numerous locations across the country.
Seattle
Seattle police were well staffed and prepared to handle "Black Lives Matter" protesters on Friday, especially during the tree lighting ceremony in Westlake Center. Some 700 people turned up for the event with four people eventually arrested in Seattle marches.
Protesters disrupted traffic in the area throughout the afternoon and Seattle Department of Transportation reported traffic issues downtown, especially on 4th and 5th Avenues headed towards Westlake. Drivers were told to expect delays.
The protesters were initially peaceful as they moved through Westlake, calling for police accountability and chanting "black lives matter, not Black Friday." However, later, police said they had arrested at least three people – one for trying to break a window.
Protesters chanted "Block Black Friday" in front of Seattle's Westlake Center mall.
Seattle police in riot gear blocked Black Lives Matter protesters from entering Westlake Mall and Pacifica Place.
However, protesters broke through a police barricade Friday evening and joined the crowd gathered for the tree lighting ceremony in outside Westlake Center. The protesters were chanting, "If we don't get no justice then we will shut it down."
Protesters staged a sit in outside Seattle's Westlake Center, while police blocked the entrance to the mall.
Police in riot gear barred entrances to stores and the mall's doors.
One officer suffered a dislocated shoulder and needed medical attention after protesters interfered with an arrest at Pacific Place.
Portland
A crowd of 70 grew to over 300 for a Black Lives Matter march and rally in Portland, Oregon, according to the Oregonian.
Organizers read out the names of people who have died as a result of police brutality.
As the march proceeded, protesters chanted "Ho Ho Ho those racist cops have got to go!"
The march blocked 7th Avenue, went down Martin Luther King Avenue, rallied in Hollady Park and then took over the Lloyd Center Mall.
They moved freely and peacefully chanting "Black Lives Matter!'
Emeryville, California
A small group of indigenous protesters joined Black Lives Matter activists and blocked traffic in Emeryville in solidarity with Black Lives Matter protests. One of many protests under the hashtag #NotOneDime campaign marking the day as a nationwide economic boycott focused on racial justice.