#Fightfor15: Walmart workers protest, fast for living wage on Black Friday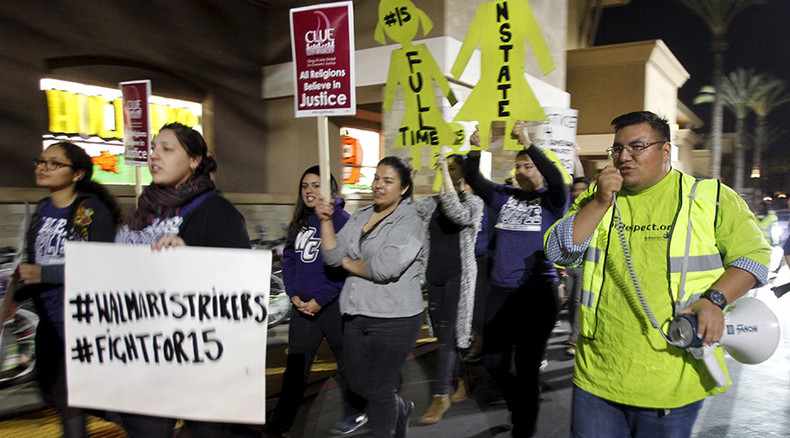 On the most notorious retail shopping day of the year, Black Friday, Walmart workers and allied groups have been calling on the retail giant to raise pay to $15 per hour and offer more full-time work to millions of its employees.
For the fourth year running, thousands of Walmart employees and others are attending demonstrations at more than a dozen Walmart stores across the nation, including in New York City, Los Angeles, Oakland, and Detroit. Prior to Black Friday, the beginning of the Christmas shopping season in the US, more than 1,000 people, including hundreds of Walmart workers, fasted for more than two weeks.
The demonstrations are led by the Organization United for Respect (OUR) at Walmart, an organization made up of employees at Walmart, the second-largest retailer in the world. Dozens of allied groups, including the United Food and Commercial Workers (UFCW), are joining OUR Walmart in their appeal for higher wages and less erratic work schedules.
"We, the hourly Associates, are the life-blood of Walmart," OUR Walmart said. "Our company is stronger because of the values we embrace – a strong work ethic, compassion for one another and honesty. Yet we are not treated with the respect we deserve. The fundamental desire to be shown respect is what led us to join together as OUR Walmart."
The group is calling for Walmart to boost salaries to $15 per hour for full-time employees (known as "associates"), more full-time opportunities for workers, "more predictable and dependable" schedules, an expansion of employee health care coverage, a less-hostile environment when employees speak out about issues at work, a clearer protocol for enforcement of employee policies, better work standards within Walmart's global operations, and equal treatment for all employees "regardless of gender identity, race, disability, sexual orientation, or age."
"Far too many of us have to rely on government assistance for our basic needs," the group added. "Walmart should publicly commit to providing wages and benefits that ensure that no Associate has to rely on government assistance."
Part of treating employees with respect, the group said, means curbing employee intimidation, especially when a grievance is aired or when employees attempt at organizing.
"Associates who assert their freedom of association frequently face retribution from the company," OUR Walmart said. "Walmart should allow Associates to freely join OUR Walmart without fear of negative company action."
Some Walmart employees are taking the Fight for 15 to the home of Walmart heiress Alice Walton's condo in New York City.
For its part, UFCW, through its Making Change at Walmart campaign, is holding as many as 1,000 food drives this week in an attempt to "feed 100,000 Walmart workers and families this holiday season."
"This Black Friday, the message we are broadcasting through our TV ads and food drives is that Walmart employees are struggling," said Jess Levin, communications director at Making Change at Walmart.
"They work for one of the richest companies in the country and so many of them have to rely on assistance from food banks and food stamps to avoid going hungry. We are setting the goal of feeding 100,000 Walmart workers but that is not a long term solution to that problem. The only solution is for Walmart to change."
UFCW operates one of two OUR Walmart groups after some members of the coalition split from UFCW in September. The splinter group has the support of several activist groups, including the National People's Action, Demos, and the National Domestic Workers Alliance.
OUR Walmart and UFCW said they aim to help Walmart employees "in their dealings with Walmart over labor rights and standards and their efforts to have Walmart publicly commit to adhere to labor rights and standards" but "have no intent to have Walmart recognize or bargain with UFCW or OUR Walmart as the representative of its employees."
In April, Walmart bumped up its base employee pay to $9 per hour and has pledged to raise that amount to $10 per hour by February 2016.
Walmart spokesman Brian Nick defended the company's actions, claiming the average full-time Walmart employee makes more than $13 an hour, and has opportunities for quarterly bonuses, a matching 401K program, and health care benefits.
"We know it takes quality [employees] to give our customers a great shopping experience," he told Fortune. "We're proud of the wages and benefits package we offer."
The biggest private employer in the world, with 2.2 million workers, Walmart is the global leader in revenue, according to the 2014 Fortune Global 500.