Soul food with Bernie: Killer Mike gives ringing endorsement to Sanders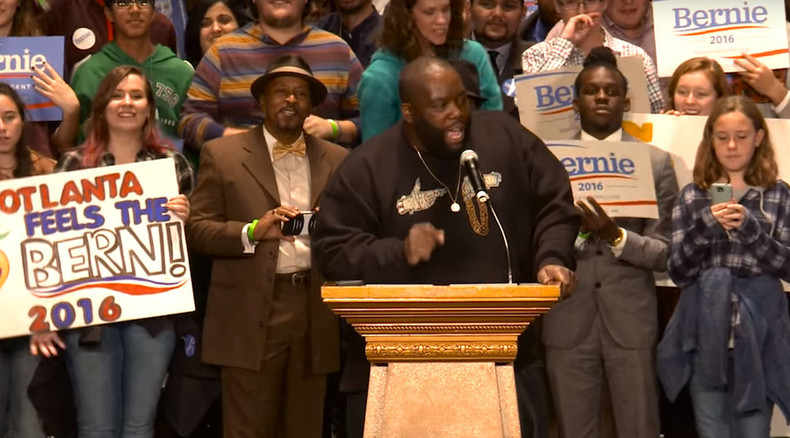 Rapper Killer Mike opened a Bernie Sanders rally with an impassioned speech, wholeheartedly endorsing the insurgent candidate in the Democratic presidential race. This comes at a time when Sanders is struggling to win over black voters.
The Atlanta-born hip-hop star and activist introduced Sanders with a six-minute speech, praising the senator at a rally on Monday evening. He cited the Vermont senator's positions on health care, the war on drugs and minimum wage as reason for backing his campaign, mentioning how this contrasts to his usual distrust of politicians.
"In my heart of hearts, I truly believe that Sen. Bernie Sanders is the right man to lead this country," he said Monday evening to a cheering Atlanta crowd of 5,000 people.
Earlier in the day, Killer Mike brought Sanders to the Busy Bee Café, a famous soul food restaurant in the city. They talked about their shared admiration for intellectual Noam Chomsky and Dr. Martin Luther King Jr, over a meal of friend chicken, macaroni and yams, according to ABC News.
"It was just a conversation between two angry radical guys, one 74 and white and one 40 and black and finding common ground," the musician told reporters before the rally, adding that he would do everything humanly possible to help Sanders win.
Killer Mike, whose real name is Michael Render, announced his support for Sanders in June, and his endorsement could help the candidate poll better with black voters.
Sanders has struggled to win over African-Americans throughout his campaign, with an October CNN/ORC poll showing him being outpaced by Hillary Clinton in that demographic by a whopping 55 points. Sanders has since stepped up his engagement with the black community, most recently speaking at black churches and at a forum on racial and criminal justice during his four-day tour through South Carolina and Georgia.