Man suing police 'armed to the teeth' for using SWAT tactics during a 'welfare check'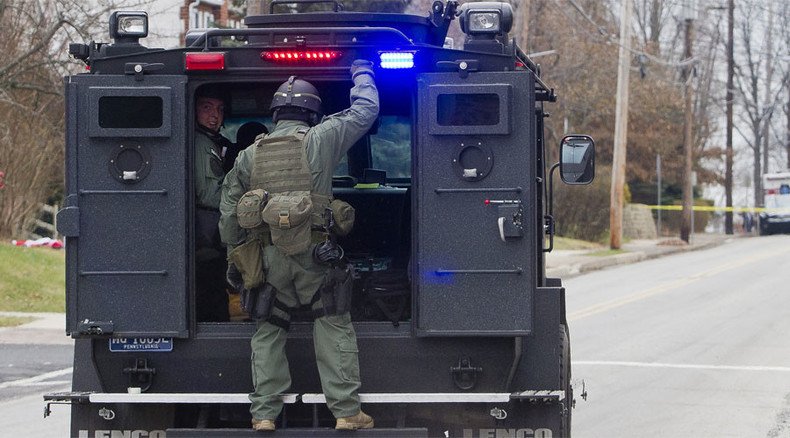 It started out as a "welfare check," but even without a warrant or probable cause, the police encounter transformed into a full scale SWAT-style raid. That is just part of the ordeal for which one man is suing the Albemarle County Police.
On November 21, 2013, Benjamin Burruss was all ready to leave The Comfort Inn for a camping and hunting trip, so when police asked him to step out of his truck, he asked to see a warrant. The Albemarle County, Virginia police, having been sent to conduct a "welfare check" by Burruss' concerned employer, did not have one.
Burruss, who is 58 years old, was wearing an orange hat and camouflage when he explained to police he was driving to Montana to clear his head of the stresses of the home and office. Burruss further told them he was no danger to himself or others. The police still wanted him to step out of the vehicle, and when he didn't, things escalated.
Lawyers from the civil liberties non-profit Rutherford Institute, John Whitehead and Michael Winget-Hernandez, are representing Burruss for what the "armed to the teeth" police did next.
The officer who had been speaking with Burruss to coax him out of his truck told fellow officers there was no reason to hold him after deeming him not a threat. Instead of going back to headquarters or moving on to another case, police turned to Kelly Burruss, Benjamin's wife, to obtain an Emergency Custody Order (ECO) from a magistrate, empowering the police to capture Burruss.
Oddly, the requirements for that particular ECO are unavailable. Court documents say "no sworn petition is contained in the court records of the ECO nor was any such petition provided in response to a Freedom of Information Act request for such records."
Police placed "stinger" spikes behind Burruss' tires, then Albermarle County's Tactical Team arrived. After two hours of failed negotiation, they threw a flash bang grenade and broke a side window to arrest Burruss and ultimately put him on an involuntary 72-hour mental health hold at the University of Virginia Hospital. In court documents, Burruss claims his hands were injured when they pulled him out of his truck.
"He suffered damages. We can document that both psychologically and physically," Whitehead, who is also president of the Rutherford Institute, told WVIR. "It's a violation of rights, when you have the police actually admitting on tape they have no probable cause or reason to hold the fellow and then they go ahead and smash out the window of his truck, drag him out and handcuff him and throw him down."
Filed on November 18, 2015 in the US District Court for the Western District of Virginia, the lawsuit against the County of Albemarle and five police officers alleges unlawful seizure, false imprisonment, and battery as well as violations the Fourth and Fourteenth Amendments to the US Constitution.
"This is just one more example of how a relatively benign situation (a routine welfare check) gets escalated into something far more violent and dangerous through the use of militarized police, armed to the teeth and trained to react combatively," Whitehead said in a statement.
You can share this story on social media: