Epic bombing fail? PBS uses Russian footage to depict US airstrikes on ISIS oil fields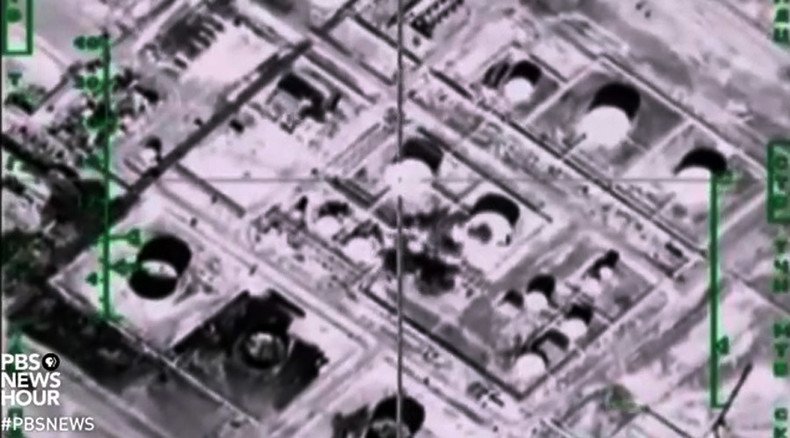 Apparently being unable to find any footage of the US Air Force strikes against Islamic State's oil infrastructure, PBS NewsHour spliced Russian Defense Ministry's video into their report – but it did not go unnoticed.
The PBS report last week used two objective control videos made by Russian drones while Sukhoi bombers based at Khmeimim airfield in Latakia bombed out an oil storage facility in Syria used by ISIS and a large camp of oil trucks.
While showing black-and-white military footage of burning trucks, the PBS voiceover says: "For the first time, the US is attacking oil delivery trucks."
The fact was first noticed by the Moon of Alabama website, which noted that any average viewer of the PBS report would assume that the black-and-white explosions of oil trucks and tanks are from of US airstrikes filmed by US Air Force planes.
"We have destroyed 116 tanker trucks and reduced ISIS's ability to transport stolen oil," reported Col. Steve Warren, spokesman for the combined joint task force, on November 18 , after 15 months of bombing ISIS. He noted it was the first US strike against ISIS tanker trucks in Syria.
"But unless we have US video of such strikes and not copies of Russian strike video fraudulently passed off as US strikes we will not know if those strikes happened at all," the Moon of Alabama said.
Last Wednesday, Russian General Staff spokesman Colonel General Andrey Kartapolov said: "In just the first few days, our aviation has destroyed 500 fuel tanker trucks, which greatly reduced illegal oil export capabilities of the militants and, accordingly, their income from oil smuggling."
It was then that Russian military presented videos of elimination of ISIS oil trucks later used by the PBS as an illustration of American airstrikes.
You can share this story on social media: