Rikers prison guard 'raped female inmate for 20 mins while 2nd guard watched' – lawsuit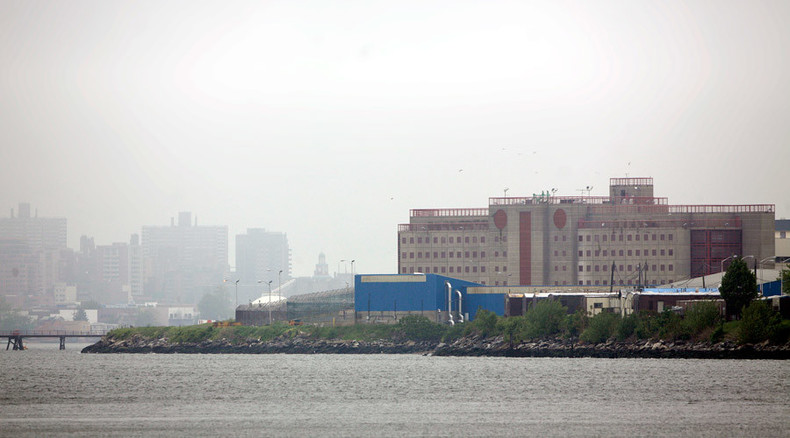 A federal lawsuit has alleged that a corrections officer at Rikers Island jail sexually abused a female inmate on a bus for 20 minutes, and his colleague watched the rape as it was happening.
The guards' names are Figueroa and Pearson, and the woman who sued them was not identified, in accordance with standard practice in rape cases, New York Daily News reported.
The two guards were driving the woman and five male prisoners from Brooklyn to Rikers on March 20, when the incident happened.
First, a male inmate bribed one of the officers, apparently to have consensual sex with the female prisoner, but then the officer returned and told the male inmate to go away, according to the New York Daily News.
Afterwards, Figueroa pushed the woman down on to a seat in the back of the vehicle, and despite her protesting and asking him to use a condom, he raped her, telling the victim that he "wanted to give Pearson a show."
According to the New York Post, the lawsuit states: "[The woman] considered screaming out but chose not to scream because she realized that any officers who might respond from the [prison] were apt to be male and [she] was frightened that they might assault her as well."
The Department of Correction sent journalists for comments to the US Law Department, the spokesman of which said that they will "review the specific claims when [they] receive the suit."
The news comes about a month after New York City's public advocate Letitia James said most of the sex abuse lawsuits accusing prison staff of misconduct never made it to the police.
The prison reported only two incidents out of 116 complaints, and none of the 28 accusations of rape, James said.
The number of prisoners on Rikers Island has been falling over the past three years, but the statistic shows that the allegations of sexual abuse have not decreased during the same period.
Last month, another report also provided detail on the shocking level of violence in NYC prisons: the New York City Comptroller Scott Stringer reported that inmate attacks on officers have jumped 46 percent since 2014, and the use of force against inmates increased by 27 percent.