Princeton University eyes removing Woodrow Wilson's name, portraits over 'racist legacy'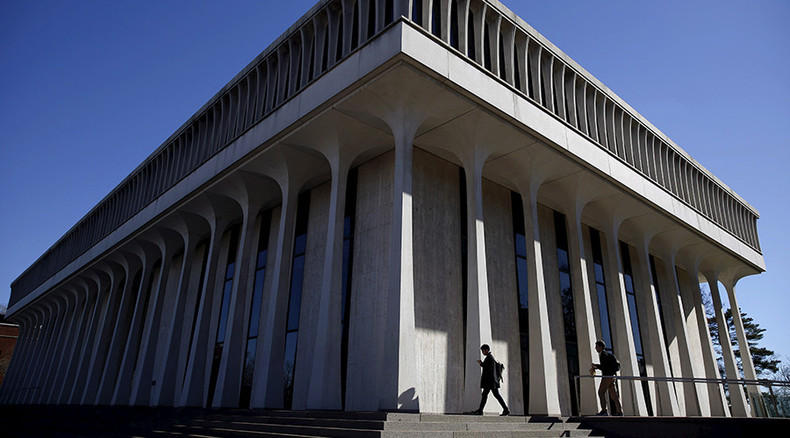 Former US President Woodrow Wilson's name and portraits may be removed from Princeton University facilities and programs, following a deal with student demonstrators who feel that Wilson was racist even for his time.
The deal was signed Thursday after members of the student organization Black Justice League stormed an administrative building on Wednesday and staged a 32-hour sit-in outside office of Princeton president Christopher Eisgruber.
The demonstrators demanded the removal of President Wilson's image and name from the university's public spaces, including the Woodrow Wilson School of Public and International affairs.
Activists have also demanded that "cultural competency training" be required of all faculty members, a measure proposed earlier but "voted down on the grounds of trespassing freedom of speech last spring semester." Another demand by the protesters is that all Princeton students be required to take classes on the history of "marginalized peoples."
Princeton appreciated the "willingness of the students to work with us to find a way forward," Eisgruber said in a statement.
Prior to going into politics, Woodrow Wilson studied at Princeton and served as the school's president from 1902 to 1910. He was elected 28th president of the United States in 1912, on a on a Democratic Party ticket, and served from 1913 to 1921.
Though he was a Democrat and a leader of the Progressive movement within the party, Wilson supported segregation, and in fact re-segregated some federal agencies after they had been integrated during the 1856-79 Reconstruction period.
Wilson is no friend of conservatives, either. A great believer in internationalism, he involved the US in the First World War, despite getting elected in 1916 on an antiwar platform. He also spearheaded the effort to create international institutions that conservatives are skeptical of today, such as the League of Nations, the predecessor to the United Nations. He also established the Federal Reserve, which many conservatives oppose on free-market grounds.
The calls for the erasure of Wilson's name come during a surge in student activism nationwide concerning alleged racism on university campuses, but renaming buildings on campuses for sensitivity reasons is not new.
Just last week, student protests compelled Georgetown University to rename two campus buildings. Mulledy Hall and McSherry Hall were named after past Georgetown presidents who organized the sale of slaves to pay off the university's debt. In May, University of North Carolina at Chapel Hill removed the name of a KKK Grand Dragon from a campus building. In 2014, Duke University removed the name a white supremacist, former North Carolina governor Charles B. Aycock, from an undergraduate dorm.