Hillary Clinton's ISIS strategy: More bombs, 'intelligence surge,' and no-fly zone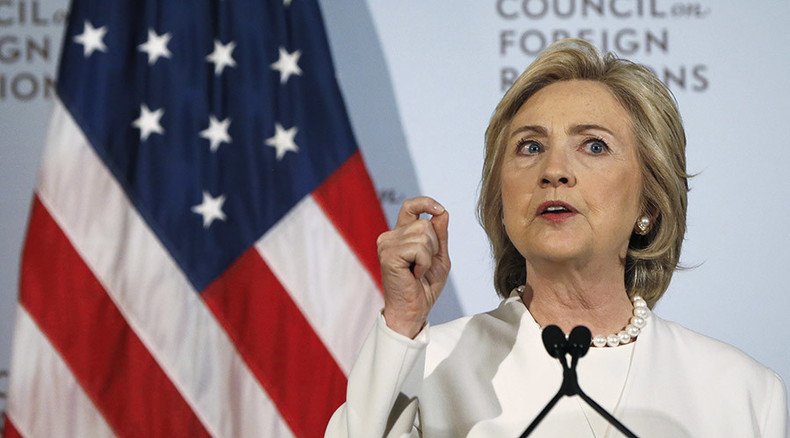 Speaking as if she were president already, the Democrats' front-runner Hillary Clinton presented her vision for US strategy against Islamic State. Along with current White House talking points and tropes, the speech did contain some startling suggestions.
Clinton had sharp words for US ally Turkey, accusing the government in Ankara of being more focused on attacking the Kurds than participating in the fight against the self-proclaimed Islamic State (IS, formerly ISIS/ISIL). Turkey must stop bombing the Kurds, lock down its southern border and "become a full partner" in the US-led coalition against IS, Clinton told the audience at the Council on Foreign Relations in New York on Thursday.
Along with Turkey, Washington's Arab partners in the region need to "carry their share of the burden," Clinton proclaimed, singling out Saudi Arabia and Qatar. Those nations, she said, have to "stop their citizens from directly funding terrorist organizations," mosques and other places of radicalization, as part of an effort to "disrupt and dismantle" the global infrastructure of terrorism.
When she tried to define the actual enemy the US and its allies would be fighting, however, Clinton became less direct. She spoke of "radical jihadism," calling for "a generational struggle against an ideology with deep roots," but never quite explained just what those roots might be.
"Muslims are peaceful and tolerant people and have nothing whatsoever to do with terrorism," she insisted at one point, accusing those who spoke of "radical Islamic terrorism" of aiding the enemy by "alienating partners we need by our side."
When it came to actually fighting IS militants on the ground, Clinton's prescriptions were familiar, echoing the recommendations of strategists testifying before Congress every week. She called for more planes and more bombs, more special forces, and arming and equipping local proxy forces.
In Iraq, she called for Baghdad to speed up "national reconciliation" and "get its house in order," so more Sunni Arabs would join the fight against IS. She urged the arming of Kurds and Sunni militias, and if Baghdad objected, "the coalition should do so directly."
Showing similar regard for Syrian sovereignty, Clinton called for the deployment of more US and allied special forces in the country, where they would back the "viable Syrian opposition units" currently being supplied with weapons and ammunition by Washington. Claiming that the government of President Bashar Assad "slaughtered civilians," Clinton urged the establishment of a no-fly zone in northern Syria, so that the US-backed rebels could create a "safe zone" for civilians.
How long is the media going to let HRC get away w/ this totally Orwellian notion that a NFZ (tacit declaration of war w/ Russia) is abt ISIS

— Adam H. Johnson (@adamjohnsonNYC) November 19, 2015
Another suggestion was to launch an "intelligence surge" in the region, which would involve regional partners and Arabic speakers. The knowledge thus gained against IS would help make both the air and the ground campaign more effective.
"This is a time for American leadership," Clinton concluded. "No other country can rally the world to defeat ISIS and win the generational struggle against radical jihadism. Only the United States can mobilize common action on a global scale, and that's exactly what we need. The entire world must be part of this fight, but we must lead it."
The US has spent over $4 billion on a largely futile year-long campaign against IS, launching tens of thousands of sorties and thousands of strikes but failing to score significant victories against the group. Meanwhile, pressure on the militant group has recently been coming from another direction, since Russia launched its air campaign against Islamic State on September 30. Officials from Moscow claim IS has been in constant retreat ever since.
You can share this story on social media: