Ex-CIA director wants Snowden 'hanged by the neck' as tougher security measures proposed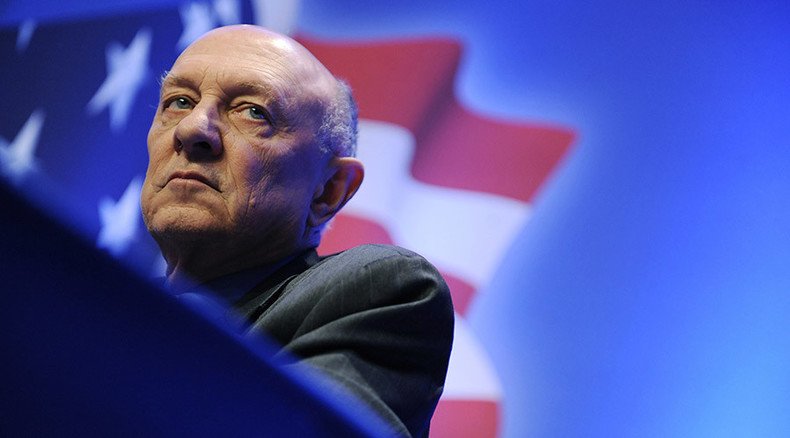 An ex-CIA director claims Edward Snowden should face the death penalty because he has French "blood on his hands." Some experts, however, cast doubt on that claim, with one saying the Paris attacks are being used as a "good crisis" by those in power.
The exact means of communication the terrorists used to organize the Paris attacks that killed 132 people on Friday remains unknown. Despite this, prominent current and former US intelligence officials are calling for back-door access to encrypted devices, and in one case, trap-door access for Edward Snowden.
"It's still a capital crime, and I would give him the death sentence, and I would prefer to see him hanged by the neck until he's dead, rather than merely electrocuted," former CIA director R. James Woolsey said, referring to Snowden as a "traitor" in an interview with CNN Thursday.
"I think Snowden has blood on his hands from these killings in France," Woolsey said.
However, new evidence suggests no encryption was ever used in plotting the recent attacks. Paris prosecutor François Molins confirmed that one of the suspected attacker's cell phones was found in a trash can near the Bataclan concert hall – and no encryption software was on the phone. In fact, easily accessible text messages on the phone were directly related to the attack.
Texts sent at 9:42 pm on the night of the massacre read "On est parti on commence," which means, in effect "Here we go, we're starting."
Although Woolsey's rhetoric was the most vivid, it didn't drift far from what other intelligence officials and politicians have been saying.
In a speech at an Overseas Security Advisory Council meeting on Wednesday, current CIA head John Brennan blamed "a number of unauthorized disclosures" as well as a "lot of hand-wringing" for depriving his agency and others of what he called necessary tools "to find these terrorists".
"I think any unauthorized disclosures made by individuals that have dishonored the oath of office, that they have raised their hand and attested to, undermines this nation's security," Brennan said.
In a response by the New York Times titled "Don't Blame Edward Snowden for the Paris Attacks," the editorial board points out Brennan made false statements regarding civilian deaths caused by his classified drone program and the scope of his enhanced interrogation program outlined by the Senate Report on Torture.
In a Washington Post interview, Representative Adam B. Schiff (D-California), the top Democrat on the House Intelligence Committee, echoed the CIA's line, saying terrorists "adapted to the disclosures by Snowden and have made it more difficult for us to track their whereabouts as well as their plotting and planning."
The decision to condemn Snowden amounts to a "two-day impulse response," Ross Anderson, professor of Security Engineering at the Computer Laboratory of the University of Cambridge, told the New York Times.
"Never waste a good crisis, as they say," Anderson said.
Surprisingly, this idea was reiterated by a senior government official who went unnamed when speaking with the Washington Post. The official said the media was being played by those who want to see more surveillance power in the government's hands.
"Law enforcement is taking advantage of a crisis where encryption hasn't proven to have a role. It's leading us in a less safe direction at a time when the world needs systems that are more secure," the official said.
Jameel Jaffer, deputy legal director of the American Civil Liberties Union, told the Post in a separate report that "Aspiring terrorists already knew the US government was doing everything it could to track and monitor their communications," adding that Snowden revealed that the government wasn't just watching terrorists.
"What Snowden disclosed was the astonishing extent to which the government's surveillance power had been turned on ordinary citizens. The CIA director knows this. He'd just rather we talk about Snowden's disclosures than about the intelligence community's failures," he said.
In a measured but undercutting response to the Snowden scapegoating, Brookings Institution terrorism expert William McCants told the Post, "I think you can recognize that the leaks did damage to the United States' ability to monitor some of their communications, while also acknowledging that the jihadists were pretty security-conscious anyway."
On the presidential campaign trail, top Republican contenders have been calling for more increases in surveillance, but not every candidate has done so.
"We're going to have to do things that we never did before. And some people are going to be upset about it, but I think that now everybody is feeling that security is going to rule," Donald Trump said in a Yahoo interview. Trump has said mosques will have to be closed and Muslims may have to register or be kept on a government database.
Kentucky Senator Rand Paul summed up his response to calls for more surveillance power with a curse word. "So when they stand up on television and say, the tragedy in Paris means you have to give up your liberty, we need more phone surveillance. Bullshit," he told a gathering of Students for Rand.
Security forces in France and the US remain in a state of heightened alert.
French police have conducted over 400 raids this week, arresting 60 people and seizing 75 weapons, including a rocket launcher, according to a government statement. Roughly 120 people have been committed to house arrest, as streets were closed for a search for a suspicious vehicle on Wednesday, and French parliament's lower house extended the state of emergency on Thursday. The upper chamber is expected to vote on Friday.
Meanwhile, French President François Hollande is pursuing the power to rescind citizenship rights for French-born terrorists, as well as to deport foreign-born terror suspects more easily. Hollande also wants better armed police and bulked up security at the French border and high priority sites such as the Eiffel Tower. Moreover, Hollande will meet with US President Barack Obama and Russian President Vladimir Putin next week to discuss escalating attacks in Syria.
Comparisons are being drawn between France's response to the recent attacks and America's in the wake of 9/11, with debate over civil liberties being propelled to levels not seen since Snowden's whistleblowing over two years ago by fears of a feedback loop of rising security impositions.
You can share this story on social media: