'Shameful': Yellowstone National Park considers killing 1,000 wild bison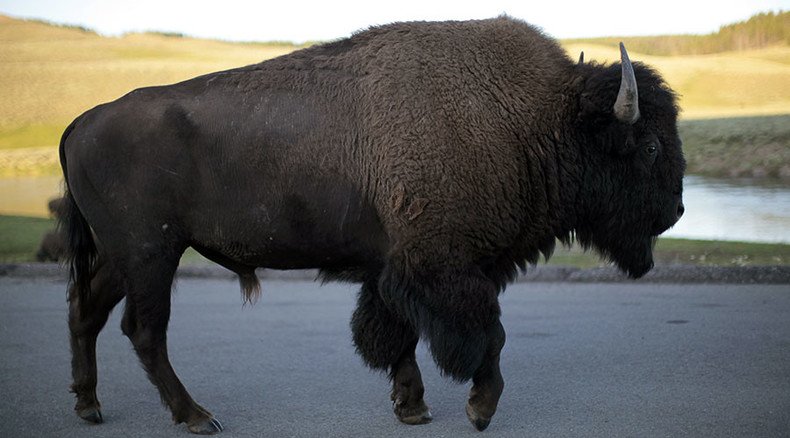 Yellowstone National Park has proposed killing roughly 1,000 wild bison this winter in an effort to curb the animals' annual migration to Montana. The bison, mostly calves and females, would be delivered to Native American tribes for slaughter.
The controversial annual culling is aimed at lessening the risk of Yellowstone bison infecting cattle herds in Montana with brucellosis, a bacterial disease that can cause pregnant bison and other animals to miscarry their young.
The yearly culling is part of a 2000 agreement made between Montana and the federal government, which was aimed at preventing the spread of the disease.
"Through the legal agreement the National Park Service has to do this," Yellowstone spokeswoman Sandy Snell-Dobert said, as quoted by AP. "If there was more tolerance north of the park in Montana for wildlife, particularly bison as well as other wildlife, to travel outside the park boundaries, it wouldn't be an issue."
Yellowstone spokeswoman Amy Bartlett said: "No formal decision has been made, but the park proposal is for 1,000 fewer bison," Reuters reported.
Federal, state and tribal officials managing the bison are scheduled to meet later on Thursday to review the latest proposal. They aim to adopt a final plan before winter.
The herd at Yellowstone was estimated to number about 4,900 this summer. The culling would bring that number closer to the park's target population of 3,000 bison. This year's proposal focuses mainly on killing females and calves, to reduce the population's reproductive rate.
The size of the bison culling varies from year to year, but the removal of 1,000 animals this winter would mark the largest single reduction since more than 1,600 were killed in the winter of 2007-2008. More than 700 bison were culled last year, most of them captured and turned over to tribes for slaughter.
Some tribes, including the Nez Perce in Idaho, support the program, while others oppose it.
Jimmy St. Goddard, a spiritual leader of the Blackfeet Tribe in Montana, has criticized the killings, noting that the culling evokes a chapter in US history in which extermination campaigns pushed bison to the edge of extinction.
"Killing these buffalo is shameful," he said.
Attempts to relocate bison to avoid the annual culling have largely failed, as ranchers and landowners expressed concern about disease, as well as fears that bison would graze on land needed for livestock.
Yellowstone has one of the largest wild bison herds remaining in the world. The animals are a top attraction for the millions of tourists who visit the park each year.
This is not the first time Yellowstone has come under criticism in recent months. In August, the park received fierce backlash online for euthanizing a mother grizzly bear after it killed a hiker who was walking off-trail. An online petition was launched in an attempt to save the bear, though the effort ultimately proved futile.
You can share this story on social media: