4.7 magnitude earthquake strikes Oklahoma - USGS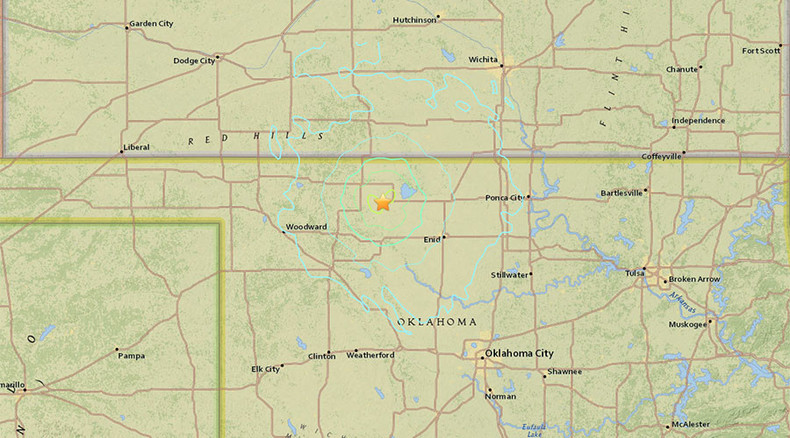 A 4.7-magnitude earthquake has struck Oklahoma, the US Geological Survey reported, adding that the quake hit at a depth of 6.2 km, just 13 km from the town of Cherokee.
There have been no reports of damage or casualties following the quake.
Local media reports said that the earthquake was also felt in neighboring Kansas. Kansas-based KSN reported that the quake had affected Wichita, the largest city in Kansas, with almost 400,000 residents.
"It was a quick jolt with windows rattling with [the first waves], then 5-10 seconds later [the second waves] rattled windows and shook appliances and computer monitors," said AccuWeather Enterprise Solutions meteorologist William Clark, who felt the earthquake in Wichita.
Oklahoma has repeatedly seen seismic activity, which reportedly has links with fracking operations being undertaken in the area.
In July 2015, an astounding 40 earthquakes were reported within the space of a week in the state. Oklahoma Governor Mary Fallin acknowledged the link between such earthquake clusters and wastewater disposal procedures used in fracking.
READ MORE: Oklahoma shaken by 40 earthquakes in one week, fracking waste blamed

In 2013, Oklahoma experienced 109 earthquakes and tremors of magnitude 3.0 or higher. In 2014, the number skyrocketed to 585 such seismic events, according to state website Earthquakes in Oklahoma. This puts the current frequency at some 600 times the historical average. And geologists in Kansas believe a string of mysterious earthquakes may have been caused by pumping chemicals into the ground as part of the controversial gas and oil extraction process known as hydraulic fracturing.
READ MORE: ​'Strong correlation' between quakes and fracking in Kansas – official

You can share this story on social media: