Never mind the constitution: Obama, Aquino love the TPP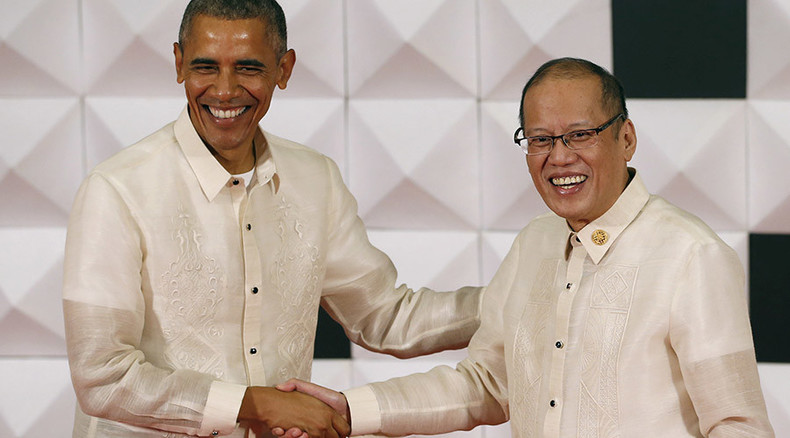 US president Barack Obama used a quick stop in the Philippines to chat with President Benigno Aquino about the Trans-Pacific Partnership. Aquino says his Asian nation would love to be part of it, but the Philippine constitution stands in his way.
Obama welcomed their interest in the controversial agreement, which has been the subject of protests around the world, including the Philippine capital of Manila. Proponents of the TPP have argued that if the Philippines did not join the trade pact, it could lose its share of the US market.
The Philippine Constitution protects national independence and resources. Foreigners are barred from owning land, or own more than 40 percent of businesses, and they cannot exploit natural resources.
These protections are not aligned with the TPP's aim to open new markets, get rid of trade barriers between member nations, and limit national sovereignty.
Last year, however, the Aquino government removed the restrictions on foreign banks, allowing them to own 100 percent of Philippine banks, as opposed to just 60 percent.
TPP is not the only thing Obama is pushing that is running up against the Philippine constitution. The country's Supreme Court is currently considering the constitutional challenge against the Enhanced Defense Cooperation Agreement (EDCA), which would allow US troops, planes, and ships to be based in the Philippines. The ten-year pact was signed by both countries during Obama's last visit.
Women activists gathered outside the US embassy in Manila last week to denounce the EDCA and protest US military presence in the region.
On Tuesday, Obama announced the US will give the Philippine Navy two ships, as part of a larger US plan to increase assistance to the Aquino government and its presence in South-East Asia.
"Our Enhanced Defense Cooperation Agreement, when implemented, will bring our militaries even closer together," Obama said after the meeting with Aquino on Tuesday.