Severe storms cause damage throughout Texas, Oklahoma & Kansas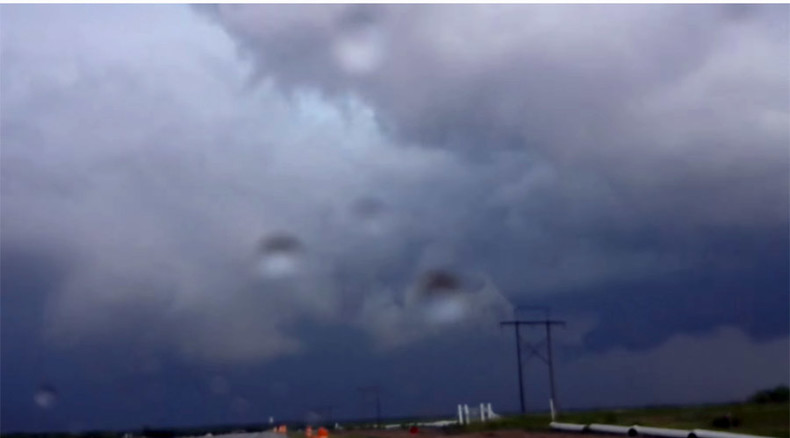 Much of North Texas was under a tornado watch as severe weather moved throughout the region. The storm left a wake of damage caused by its heavy rain, lightning and high winds. Oklahoma and Kansas were also hit by the wild weather.
At the height of the storm, more than 35,000 people were left without power early on Tuesday, but only a few hundred remained without power by mid-morning.
The National Weather Service said that a "small, brief tornado" likely had winds that reached speeds of about 85 mph and left a narrow path of damage.
Despite the destruction, there were no reports of injuries from the storm.
The storm toppled trees and power lines due to 60 mph winds, tearing the roofs off some buildings.
The strong winds also toppled over several 18-wheeler trucks on the highway.
Trucker Gary Jenkins said that he had stopped to take a nap in his rig just after 3 a.m. Not long after, he said that he heard a bang and found that the truck was on its side.

"It was a nice little ride," Jenkins told KTVT, adding that the experience left him a little dazed. "I started looking for my shoes and stuff like that, to try and get out. But the fire department came and helped me out of the truck and everything."
The storm comes shortly after five tornadoes coursed through northern Texas Monday evening, downing power lines and destroying a Halliburton oil plant, according to the National Weather Service. The plant was closed at the time.
Oklahoma was also hit by a series of twisters on Monday evening. Three tornadoes affected the panhandle area of the state, leaving more than 7,000 people without power.
At least 11 tornadoes were reported in Kansas, with a 12th moving into the state from Oklahoma to the south. The effects were minor, with some rural roofs and power lines getting damaged.
After a tornado was observed south of Ulysses, Kansas, the town schools held their students after hours until the storm system had passed.
"The coast is clear and everyone was sent home, safe and sound. District coordinated with local emergency management officials, who determined the severe threat was over," said superintendent of Ulysses Public Schools Dave Younger. No injuries were reported.