Over 1,800 Mormons cut ties with Church over new anti-gay policy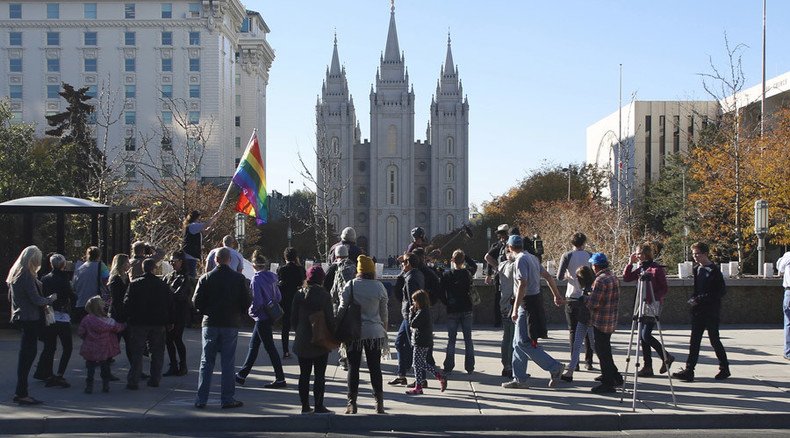 The Mormon Church lost over 1,800 members over the weekend as believers resigned en masse to protest a new same-sex policy. The newly-approved rule bans children of gay couples from being baptized until they turn 18.
Resignation letters from more than 1,000 people were submitted to the Church of Jesus Christ of Latter-day Saints (LDS) on Saturday alone.
Crowds gathered outside the LDS church's Salt Lake City headquarters to protest the policy, calling it discriminatory.
"All of your letters went out in today's mail. 1830 (Eighteen hundred and thirty). Not all of those were from Saturday, but the majority were. You guys are the greatest! Thank you for standing up for what is right!!" Mark Naugle, an attorney handling the resignation letters, wrote on the event's Facebook page on Monday.

Those who could not attend the LDS mass resignation event on Saturday were invited to participate by sending their letter online.
In order to formally cut ties with the Church, LDS requires a letter detailing the reasons for leaving.
"It is difficult for people to leave the Church. It takes people a long time to make this decision. It is a well-thought-out one and it is not taken lightly," Brooke Swallow, one of the organizers of Saturday's protest, told Reuters.
The organizers of the mass resignation put a link on their Facebook page to a website called MormonResignation.com that warned that their actions could have bitter consequences.
"The Mormon Church does not forgive, and it does not forget," the guide reads.
A fierce opponent of same-sex marriages, the LDS adopted its new anti-gay policies earlier this month, imposing a set of controversial conditions on its members.
Under the amended rules, children of same-sex couples will not be able to join the Mormon Church until they turn 18. However, even then, the Mormon Church would want them to move out of their parents' homes, give up all same-sex relationships, and receive approval from the church's top leadership.
Under the new policies, Mormons in same-sex marriages will be considered apostates and subject to church disciplinary hearings that could lead to exclusion.
"The fact that it affects children really upset people," Naugle told CNN. "Most people are disaffected from the church already, and this was the final straw."
The LDS later clarified that the rules did not refer to children that had already been baptized into the church.
"We don't want to see anyone leave the Church, especially people who have been struggling with any aspect of their life. It's extremely important that our members read what leaders have said, and do not rely on other sources or interpretations or what people think they have said," church spokesman Eric Hawkins said in a statement.
The clarification did not halt the protest, however. Another demonstration called "The Utah Rally for Love, Equality, Family and Acceptance" is set for next Saturday in the same area.
"We rally together on November 21st, to show our state, and our nation, that we stand together as a community dedicated to believing that everyone deserves Love, Equality, Family, and Acceptance In large numbers our voice will be heard; it is up to EVERY ONE OF US to be the voice of change," the movement said in a statement.
The Mormon Church has more than 15 million adherents and 85,000 missionaries globally.
You can share this story on social media: