Body cameras on the way for US Border Protection officers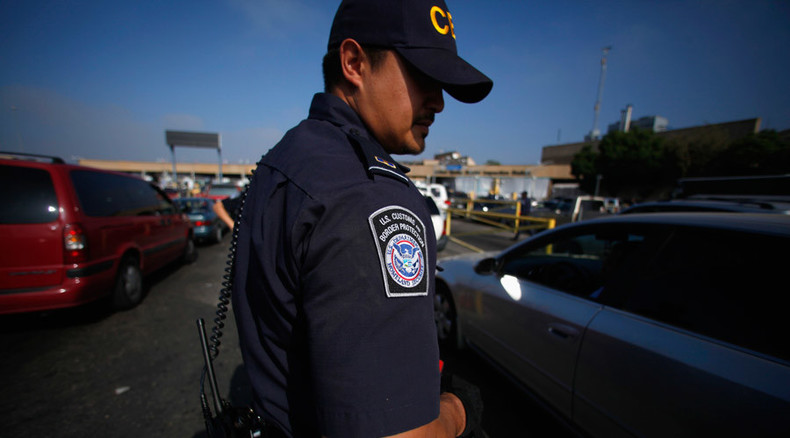 US Border Protection officers are going to be outfitted with body cameras despite a study finding most of the cameras are ill-suited to harsh border environments with limited internet access, and that the agency currently lacks guidelines for their use.
The study, conducted by a US Customers and Border Protection (CBP) working group, found that despite these concerns, the cameras could have "positive benefits …if acquired, deployed and managed properly."
The agency will use the cameras for "checkpoints, vessel interdiction operations, training academies, and outbound operations at ports of entry, as well as mobile camera options in vehicles," CBP Commissioner Gil Kerlikowske said in announcing the program.
The agency says it is integrating the use of body cameras to enhance transparency, accountability and credibility with the public. It's also intended to reduce allegations of wrongdoing, deter frivolous complaints and lower use of force incidents, according to the study.
"While CBP already makes extensive use of cameras in the border environment, technology is constantly evolving and we are committed to testing durable new cameras that may work with CBP's operational requirements," said Kerlikowske.
However, before the body camera program is implemented and deployed, its use will have to be properly delineated by guidelines according to Kerlikowske. "We will develop sound policies to reflect technology requirements, privacy concerns, training implications, union negotiations, and funding," he said.
Along with the announcement came the release of a year-long feasibility review showing that the border patrol is already operating in a "camera rich environment," with approximately 7,500 cameras covering ports of entry at the southern and norther borders and an additional 1,200 cameras between them, including "fixed and mobile cameras, checkpoints and facility cameras."
Beyond worries about the cameras working properly in difficult patrol environments with limited internet access, there have also been concerns over hacking-related threats, long-term financial costs, and a loss in law enforcement hours due to uploading footage, records management, and processing high numbers of Freedom of Information Act requests.
There have also been concerns that the body cameras have the "potential to create mistrust and suspicion between officers [or] agents and management," and over whether "video accurately conveys the same sense of threat that is experienced by an officer or agent."
Additionally, the CPB working group raised issues about "impacts to officer [or] agent safety such as changes to officer stance in tense encounters," and whether the "public may be less likely to divulge information to law enforcement offices if they knew they were being recorded, as CBP found at some testing sites."
The adoption of body cameras by the federal agency comes at a time when the Justice Department, while endorsing the technology for local law enforcement, is discouraging its use in joint federal tasks, according to the Wall Street Journal.
The WSJ discovered that the federal government has yet to create guidelines on how and when to use body cameras. At a meeting of US Marshals supervisors in Colorado last month, the Marshals agency of the Justice Department said it wouldn't allow any local law enforcement officers wearing body cameras to serve on Marshals task forces. The reason appears to be that federal law enforcement work is substantially different from local police work, involving long-term investigations and "witness and informants who could be inadvertently exposed" if body cameras were used. There's also concern that "fugitives could learn the Marshal's tactics and how to evade them."