Obesity rates still rising in US, women outpace men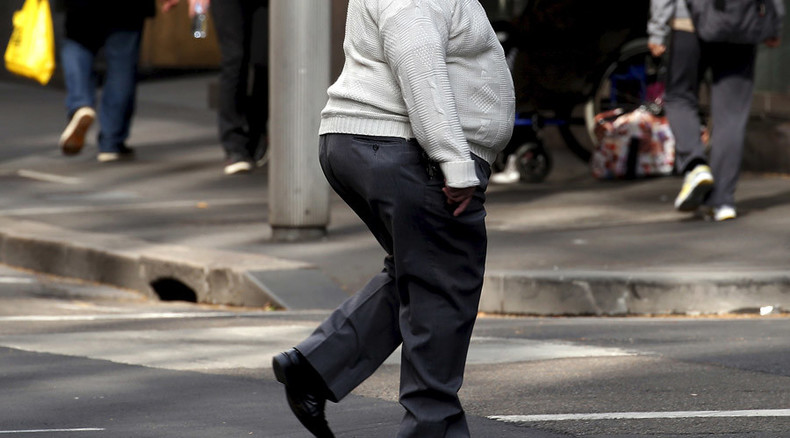 Despite long-standing efforts to get people to watch their weight, obesity is still a growing problem among American adults, according to a new report. Research said black and Hispanic women are gaining the most weight.
Almost 38 percent of adults are now obese – a metric determined by Body Mass Index, a ratio of weight to height – up from 32 percent a decade earlier, according to a new study published Wednesday by the Centers for Disease Control.

"This is a striking finding," obesity expert Dr. William Dietz of George Washington University told AP, suggesting that a phenomenon once thought to have leveled off is in fact getting worse.
The study, conducted in 2013 and 2014, also showed that women have now overtaken men as the most obese demographic. In the past, obesity rates were mostly balanced between genders, but the obesity rate for women has risen to 38 percent, compared with the 34 percent of men.
This gender discrepancy is being driven by black and Hispanic women, according to Dr. Cynthia Ogden, the study's lead author.
While obesity rates for white men and white women have remained symmetrical, the obesity rate of black woman has soared, reaching a rate of 57 percent compared to 37 percent among black males. The average Hispanic woman has also gained weight, with 47 percent being obese compared to 39 percent of Hispanic men.
While adults are getting heavier, the study said that obesity among children stayed about the same, hovering at about 17 percent.
Some experts, such as the University of North Carolina's Dr. Barry Popkin, have their doubts about the study's reliability, according to AP.
Popkin said that participants selected for the CDC study probably aren't representative of the nation as a whole, because it is difficult to make national conclusions from a small sample size. The study has about 5,000 participants each year, which is far fewer than most federal surveys regarding weight.
The news of swelling obesity rates comes after more than a decade of government anti-obesity campaigns trying to get people to eat better and exercise. Soda consumption has dropped and fast food chains have incorporated healthier menus. New federal rules, such as requiring restaurant chains to post calorie counts and banning artificial trans fats, have been adopted but not yet widely implemented.
The CDC has said that obesity-associated health conditions – including heart disease, stroke, type 2 diabetes and some types of cancer – are the leading causes of preventable death.