6 US fighter jets deployed to Turkey to 'defeat ISIS' & deter 'Russian aggression'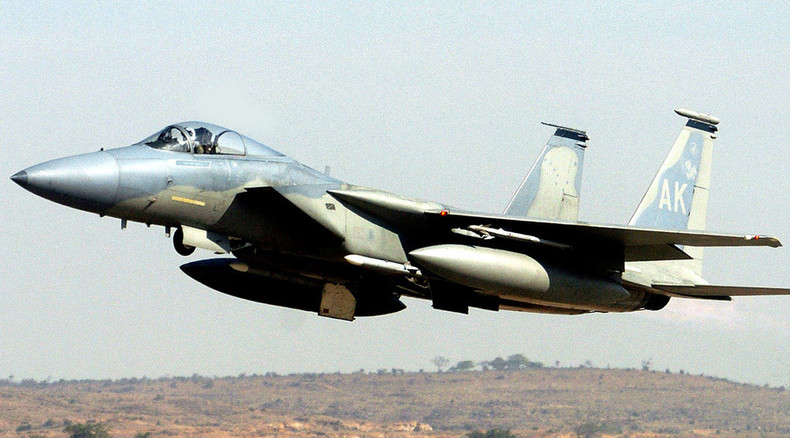 The first six of 12 US fighter jets have arrived in Turkey at Ankara's request, according to the Pentagon. It says the deployment is aimed at protecting US planes hitting ISIS targets in Syria, and deterring Russian aggression.
The arrival of the F-15-C Eagle jet fighters to Incirlik Air Base represents "both our commitment to ensure the safety of our NATO ally and our commitment to degrade and ultimately defeat the [Islamic State of Iraq and the Levant] in Iraq and Syria," Pentagon Press Secretary Peter Cook said on Tuesday.
In addition to the F-15Cs, the US Air Force will also soon deploy F-15E Strike Eagle jets to Incirlik as part of the US-led coalition's operations against Islamic State (IS, formerly ISIS/ISIL). However, their number and date of arrival have yet to be determined, according to Cook.
"We commend Turkey's decision to open these [airspaces] to us and other coalition members participating in air operations against ISIL and Turkey's participation in coalition counter-ISIL air operations," Cook said.
He added that US presence in Turkey includes US personnel recovery assets, as well as manned and remotely piloted aircraft, which are already conducting counter-IS missions from Incirlik.
The US fighter jets will join Turkish F-16s at Incirlik, which routinely participate in coalition counter-IS missions in Syria, including strike missions, Cook added.
But the move isn't only aimed at battling Islamic State, according to Cook, who claimed the shipment comes "on the heels of the incursions we saw by the Russians...and it's a request we've honored."
READ MORE: 'US-led coalition disjointed in fighting ISIS as some members have own plans' – Iraq's ex-PM
The US has accused Russia of targeting groups opposed to the regime of Syrian President Bashar Assad, while Moscow maintains it is targeting Islamic State (IS, formerly ISIS/ISIL) and other terrorist groups. Russian Foreign Minister Sergey Lavrov says the US-led coalition against IS lacks an understanding of who the terrorists really are.
Washington has also accused Russia of hitting hospitals and causing collateral damage in Syria, citing unspecified "press reports" and "operational data." The Russian Ministry of Defense called the accusations "outrageous."
Moscow also conducted research into claims made by Western media, which asserted Russia had hit medical facilities, finding that only one hospital mentioned in media reports actually existed in the first place. It provided a picture of the facility, showing that it was not bombed and remained intact.
The head of Russia's parliamentary committee on foreign affairs has warned that the consequences of US ground operations in Syria would be unpredictable.
Although their delivery was announced just one week ago, the six American fighter jets arrived in Turkey on November 6, according to the US Department of Defense.