US needs boots on the ground to 'occupy & govern' Syrian territories – Air Force secretary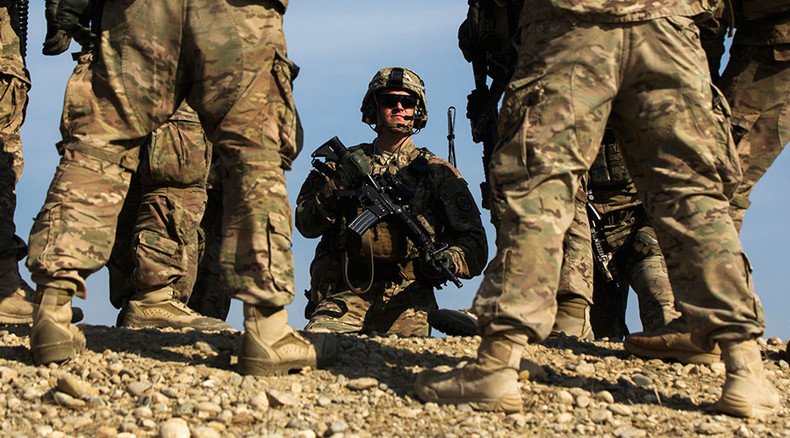 Washington needs "boots on the ground" in Syria in addition to its air campaign against ISIS, which is not fruitful despite some progress. US Air Force secretary has admitted that "ground forces" is a must in order to "occupy" and "govern" parts of Syria.
In her comments, Secretary Deborah Lee James stressed the importance of the US-led air campaign, but admitted that airstrikes need to be backed by ground forces.
"Air power is extremely important. It can do a lot but it can't do everything," James said, just two days after Secretary of Defense Ash Carter supported President Obama's "willingness to do more" in terms of US troops on Syrian ground.
"Ultimately it cannot occupy territory and very importantly it cannot govern territory," James told reporters at the Dubai Airshow. "This is where we need to have boots on the ground. We do need to have ground forces in this campaign."
When it comes to support, the US should assist the "Iraqi army, the Free Syrians and the Kurds" in the fight against Islamic State (IS, also known as ISIS or ISIL), James said.
Joined at the news conference by the head of Air Force's Central Command, Lt. Gen. Charles Q. Brown Jr, the civilian chief of the US Air Force also said that the US sought to speed up the resupply of munitions used by its allies in campaigns against IS militants in Syria and Iraq.
"That's a key message that I'm going to be taking back to Washington, and it's one that we are working pretty hard," she told reporters, stressing that the Air Force is committed to a quicker process of approving foreign military sales.
"We need to redouble our efforts and get the message delivered back home that it is important to give much more quick consideration if at all possible," she said.
Last week, Secretary Carter said that the US needed "much more than airstrikes" to defeat the Islamic State (ISIS/ISIL) in Iraq and Syria.
"I don't think it's enough. I think we're looking to do more. But the fundamental strategy in Iraq and Syria for dealing with ISIL and dealing a lasting defeat to ISIL is to identify then train, equip, and enable local forces that can keep the peace," Carter said.
On October 30 the White House announced that it is planning to send up no "more than 50 troops" [special forces] to advise "moderate opposition" in Syria on the ground.
The White House spokesman Josh Earnest stressed that "these forces do not have a combat mission" while telling the reporters that the US has shown "a desire to intensify those elements of our strategy that have shown the most promise."
According to a report from Lebanon's satellite television channel, Al Mayadeen, American military advisors already arrived in Syria last week and started training "moderate rebels" near the city of Salma, located in the western province of Latakia.
The recent development contradicts President Obama's 2013 promise not to put any "American boots on the ground in Syria" while also bringing up the issues concerning the previous failures of the US train and equip program.
The Pentagon gave up on the training part of the project in October, after senior Obama administration officials admitted that the US had only trained a handful of fighters, despite the program's $500 million budget.
In September, it was revealed that one group of trainees had surrendered one quarter of their US-supplied weapons, ammunition, and vehicles in exchange for safe passage through territory held by another rebel group affiliated with Al-Qaeda.
The rebel training program's $500 million budget in 2015 was in addition to the $42 million the Pentagon had already spent in 2014 to set it up.
You can share this story on social media: