Workers in 200+ cities nationwide rally for higher minimum wage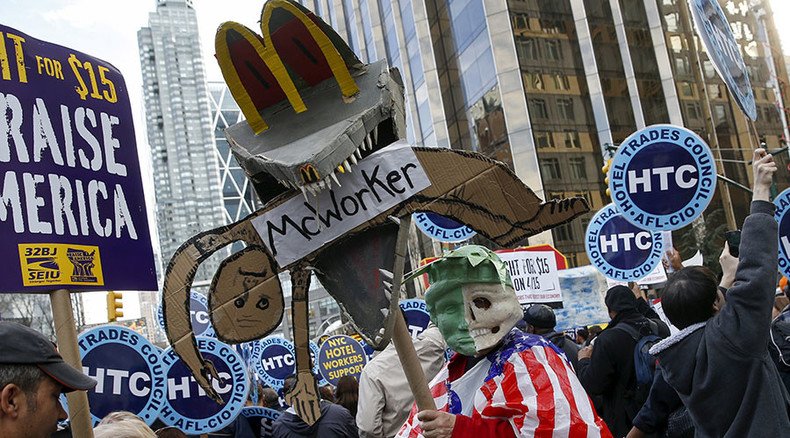 Low-wage workers across the country joined fast-food employees in the largest-ever strike to hit the industry in the fight for higher pay. They hope to capture the attention of 2016 candidates by striking one year from Election Day.
Read RT's live updates of the #FightFor15 protests
Hundreds of protesters marched in downtown Brooklyn early on Tuesday, blocking traffic and carrying banners that demand that elected leaders implement a $15 an hour minimum wage and union rights.
In addition to New York City, workers began a walkout of their jobs starting at 6 a.m. in cities Chicago, Atlanta and Kansas City, among others.
New York City Mayor Bill DeBlasio joined the protesters later on Tuesday morning to show his support.
"In New York City, we have well over a million people who don't make 15 dollars an hour – a million people trying to struggle to get by. And this movement shined a light on that reality and said: 'we're not going to go on like that,'" the mayor said to a group of demonstrators.
Similar protests from low-paid workers of other industries are planned throughout the day, joining the Fight for 15 campaign's call for higher wages. The campaign's nationwide demonstration is planned for a record 270 cities.
On Tuesday evening, workers in Milwaukee will march at the Milwaukee Theatre, where the Republican presidential debate will be held.
"Workers need a raise now," said a statement by Latifah Trezvant, a McDonald's restaurant worker in Kansas City, Missouri, who earns $8.65 an hour, according to McClatchy DC. "We've got one message for anyone running for office in 2016, whether it's for dogcatcher or president: Come get our vote. Stand up for $15 an hour and the right to a union, and we'll stand behind you."
Workers were joined by activists students in universities around the country, who took protested and took action for the campaign. Columbia University students circulated a petition demanding that all workers at the university be paid at least $15 hourly, starting with student workers.
"Many of us struggle to meet expenses as basic as food and health care, not to mention housing, textbook costs, and tuition," the petition reads. "We receive wages as low as $9, and many of us are forced to work multiple part-time jobs just to get by. We do not have time or money to access the same academic, extracurricular, and professional opportunities as other students. It is unacceptable that any student should be forced to choose between academic success and survival."
Democratic presidential hopeful Sen. Bernie Sanders reiterated his long-standing support for a $15 dollar minimum wage on Tuesday afternoon. He addressed a crowd as rain poured down onto the nation's capital, reassuring them of his solidarity with low-wage workers.
"Thank you all for coming out and standing up for justice, standing up for dignity, and for saying loudly and clearly that people in this country that work 40 hours a week deserve a living wage," he said.
The Fight for 15 campaign has seen success in New York State. Fast-food workers held a similar day of nationwide protests occurred in April, and in July Governor Andrew Cuomo pushed through a measure that would raise the minimum wage for fast food workers in New York City to $15 an hour by 2018 and statewide by 2021.
Mayor Bill Peduto of Pittsburgh, Pennsylvania announced at a Tuesday morning press conference that he issued an executive that would gradually bring the minimum wage of city workers to $15 an hour. This new measure will affect about 300 employees.
"Nobody who works full time should live in poverty," Peduto said.


New York City and Pittsburgh are the only the most recent cities to be swept up in the trend to implement the $15 wage floor.
Last year, voters in San Francisco chose to raise the city's minimum wage from $10.74 to $15 last November. Wages have already jumped to $12.25, and they are planned to reach the 15 dollar mark by 2018.
Seattle is going down the same path thanks to Mayor Ed Murray making it one of his priorities. In 2014, the city council approved the mayor's proposal to bring the city's minimum hourly wage from the Washington state's rate of $9.32 to $15 by 2017 for large employers. Businesses that employ fewer than 500 workers will have until 2021 to adjust.
Los Angeles will see its minimum wage increase, thanks to a May vote by the city council. Workers earn at least $9 an hour right now, which will go up to 10.25 next year. This increase will continue until the city reaches the coveted 15-dollar mark by 2020.
Residents of Washington, DC are expected to vote on a measure next year to increase the minimum wage in the nation's capital to $15 but 2020, up from the current $10.25. If the initiative passes, it will be unique because the minimum wage will continually increase, being tied to the consumer price index.
You can share this story on social media: