On-duty Fla. cop too 'wasted' to receive Mothers Against Drunk Driving award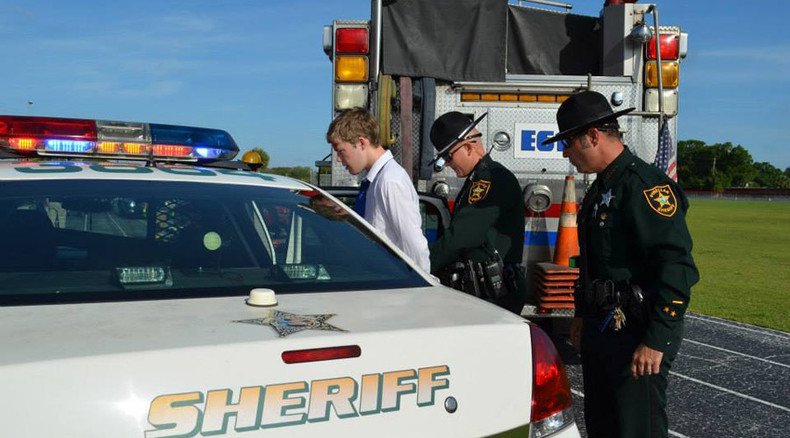 A Florida police officer may have celebrated an award he was about to receive just a tad too much: He was too drunk to walk straight when he arrived at a banquet where an anti-drunk-driving group was to honor him for making over 100 DUI arrests.
Pinellas County Deputy Michael Szeliga was ready to party when he headed to Fort Lauderdale, Florida for two days of statewide law enforcement training, packing a bottle of Jameson Irish whiskey in his luggage. Szeliga and two other deputies arrived, signed in, attended a morning session on driving under the influence (DUI)... then left. He decided the training was no longer "relevant" to him, as he was transferring from the DUI unit to become a detective, he told investigators, according to WFLA.
So he headed back to his hotel room, poured himself a few Coke and whiskeys and headed to the pool with the two other deputies and a bottle of Crown Royal, even though they were considered to be on duty. Szeliga drank Jameson and played cornhole ‒ a lawn game of beanbag toss ‒ while his buddies swam.
Then they got ready for the Mothers Against Drunk Driving (MADD) banquet, where Szeliga was to receive an award for having made 100 DUI arrests. It was a dry event, according to Florida MADD executive director David Pinsker.
By the time the deputy arrived at the ballroom for the Friday night event, he was staggeringly drunk, witnesses told investigators. Szeliga ran into Gulfport Police Chief Robert Vincent outside the event, and the chief told him that it wasn't appropriate for Szeliga to attend the affair given his state of intoxication.
"I approached him and said, 'You probably don't want to be there. This isn't appropriate'," Vincent told WFLA. "He didn't agree," adding that the deputy was "disrespectful."
"Dude," Szeliga reportedly responded, according to the Tampa NBC affiliate. "I don't work for you and I don't have to answer to you."
Vincent then called Szeliga's supervisor to come over and see his "wasted" deputy. The supervisor smelled alcohol on Szeliga's breath, and ordered him to return to his room, foregoing the banquet… and his award, WFLA reported, citing the 274-page Pinellas County Sheriff's Office internal affairs investigation.
"It's not something we condone," Pinsker told WFLA after hearing about the incident. "We certainly don't serve any alcohol at our event."
Other police officers who had seen Szeliga earlier in the evening, after a fire alarm went off as the deputy was getting ready, said that he was already drunk by that point. He was standing in the hotel hallway wearing "nothing but boxer shorts," a Pasco County sergeant who runs the DUI squad in that county told Szeliga's supervisor. "He was pretty drunk when I saw him."
Szeliga denied that he was in the hallway in a state of undress, and insisted that he merely poked his head out the door when the alarm went off. He also maintained that he wasn't as drunk at the July conference as witnesses said he was, and told investigators he'd only had two or three drinks from his bottle of Jameson.
In October, Pinellas County Sheriff Bob Gualtieri suspended Szeliga for one day without pay for violating the office's 'Standard of Conduct' with his drunken antics and rudeness towards Vincent outside the MADD banquet. Gualtieri was incredulous when he heard about Szeliga's actions.
"It was wrong, and again, one of the most ridiculous things I've heard of," Gualtieri told WFLA. "When I first heard about it, that was ]what] my reaction was. 'Come on, you've got to be kidding me. Really?'"
The sheriff also required Szeliga to write a letter of apology to the Gulfport chief.
"I addressed you in a disrespectful manner," Szeliga wrote in the letter to Vincent. "And I displayed a lack of professionalism…Please accept this letter as my formal apology for my actions. I have learned from this experience and look forward to our interactions in the future."
The initial investigation into the July incident was made public in October, when it was determined that "throughout the day" Szeliga had "consumed several alcoholic beverages" and was intoxicated when he encountered Vincent. The deputy made comments "which were considered disrespectful and overtly influenced by alcohol."
At the time, Gualtieri said he didn't want to "heap any more embarrassment" on Szeliga because "he's already taken his licks." He's a good detective who made a mistake, the sheriff added.
The final report, which was published on Wednesday, revealed further details about the incident, including the bottle of Jameson that made its way from Pinellas County to Fort Lauderdale.
"The plot thickens," former MADD director and anti-DUI attorney Tom Carey told WFLA after hearing new details. "It seems to be a lot worse than originally presented."
Szeliga is now a detective in the sheriff's crimes against children unit.
"He's no longer in the DUI unit, and it was a lapse in judgment. He gets it," Gualtieri said.
You can share this story on social media: