Mysterious giant sinkhole in Mississippi swallows at least 15 vehicles (PHOTOS)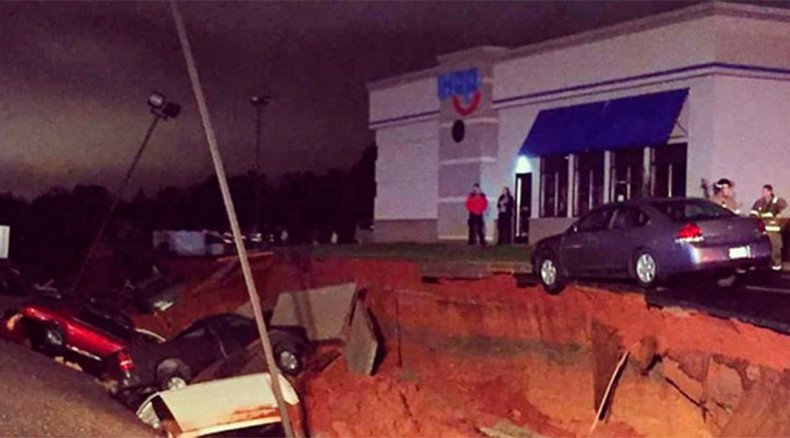 A 15-meter-wide sinkhole has recently opened up in a city in Mississippi and swallowed at least 15 vehicles, police said, adding that what caused the sinkhole is still unknown and is being investigated.
READ MORE: Monstrous sinkhole swallows car in Sicily moments after parking (VIDEO)
The sinkhole appeared in the parking lot of the new IHOP restaurant on Frontage Road in the city of Meridian. The customers at the restaurant told local WTOK-TV that they heard several booms that were quickly followed by the electricity loss.
At first the frightened customers thought that it was an earthquake, but when they went outside they saw their cars down in a 15-meter-wide, nearly 180-meter-long hole.
"We received a call earlier this evening of a sinkhole opening up at the new IHOP restaurant," Meridian Fire Department Chief Battalion Wayne Cook said. "Upon arrival, we found multiple vehicles in the ditch. At this time, we are trying to stabilize this and keep everyone away."
READ MORE: Police car swallowed up by massive sinkhole in Colorado (VIDEO)
It is not clear what exactly caused the incident, but the city has seen at least 3 inches (7 cm) of rain this weekend and about 10 inches (25 cm) in the recent two weeks.
"As far as the investigation side of it, that's going to be everybody who is involved with this," Cook added.
You can share this story on social media: