No Tsu for you: Facebook blocks social-networking competitor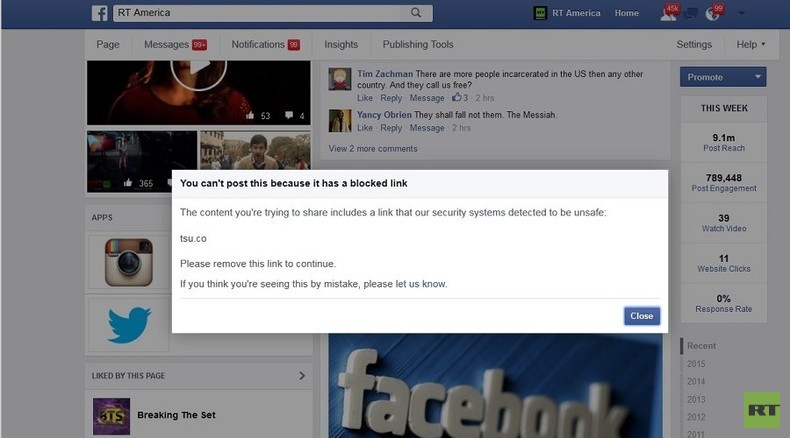 Facebook is deleting all links to fellow social media site Tsu.co on its site, as well as its Instagram and Messenger platforms, going so far as to scrub more than a million Facebook posts that referenced Tsu.co, including videos, photos, and comments.
If a Facebook post mentions "Tsu.co," the site will offer a "Send Failed" message that says the "content you're trying to share includes a link that our security systems detected to be unsafe."
Facebook began blocking Tsu-mentions on September 25, after Tsu users had generated an average of more than 2,534 visits a day to Tsu through Facebook posts.
Facebook says users have complained about Tsu.co links, identifying them as spam. Tsu -- an upstart, invite-only social network that allows its more than 4.5 million users to keep a significant share of advertising revenue from ads displayed on a user's page -- says the move is part of an effort by Facebook, the leviathan of social media, to snuff out competition.

"We're persona non grata," Tsu founder Sebastian Sobczak told CNN. "You can type in all sorts of seedy websites, and you can get to them. But not us. We don't exist."
Facebook keeps 100 percent of ad-revenue profit generated from a user's page. Tsu takes 10 percent, while the user keeps 45 percent, and the user's friends that invited the them to Tsu share the other 45 percent. The financial incentive for potential users to sign up and invite others to Tsu has translated into a slew of posts on Facebook by Tsu users mentioning Tsu.co.
Facebook says Tsu users have created fake Facebook accounts to steer traffic to Tsu. Facebook users have been reporting Tsu as spam, the site said. Facebook defines spam as "sending bulk messages, excessively posting links or images to people's Timelines and sending friend requests to people you don't know personally."
Tsu appealed to Facebook after being blocked, saying it hadn't violated Facebook's terms of service since it did not pay users to post content. Facebook says it will unblock Tsu as long as the fledgling site prohibits its users from posting on Tsu and Facebook at the same time.

"We do not allow developers to incentivize content sharing on our platform because it encourages spammy sharing," said Melanie Ensign, a Facebook spokesperson, according to CNN.
Tsu users such as photographers, artists, and others – who seek to make money from the site – said the block is hampering their ability to generate income from their work. In one case, Facebook deleted around 7,500 posts that mentioned Tsu by user Claudia Everest, who began selling her drawings of dogs – she does 25 per day – while undergoing chemotherapy.

"It has had quite an impact on myself and my business," Everest told ZDNet. "The whole idea that Facebook have labelled my dogs as malicious content is laughable."
READ MORE: Harvard student loses Facebook internship days after exposing privacy flaws
On a larger scale, rapper 50 Cent -- who has more than 38 million Likes on his Facebook profile page and 131,000 Tsu followers -- posted a video on his Facebook page in July that included a direct link to access the video on Tsu.co. That post was one of many Tsu-related posts deleted by Facebook.
Tsu founder Sobczak estimated last month that "five to ten million items have been removed from Facebook - both automated and manual."

"We are investigating the extent of what is going on between Facebook and Tsu," he told ZDNet last month. "We have contacted them but they have not responded from any of the three platforms which have removed any historical mentions of Tsu. We encourage users to see if any content has been deleted and to contact these platforms to find out why their content has been censored."