Congressman urges 'God's plan' for Fed rate hikes, but Yellen has her own ideas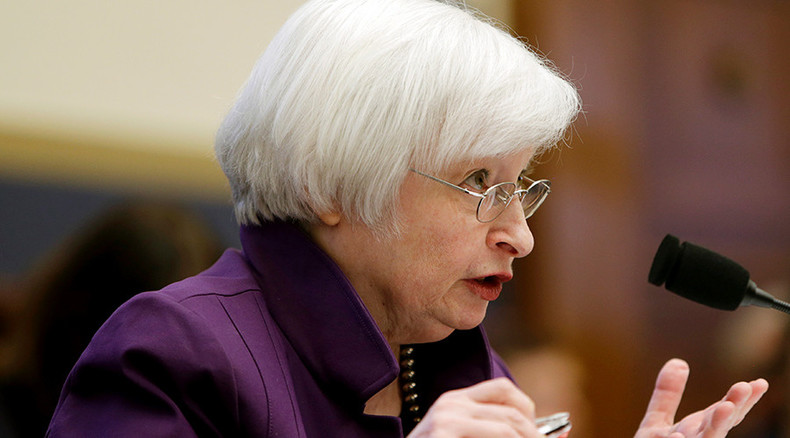 Federal Reserve Chair Janet Yellen ignored a congressman's advice to "be good with the almighty," saying interest rates could rise in December if the US economy is healthy enough. Yellen hedged her bet, however, saying major banks weren't managing risk well.
"God's plan is not for things to rise in the autumn," Representative Brad Sherman (D-California) told Yellen in a hearing of the House Financial Services Committee. "God's plan is that things rise in the spring, and so if you want to be good with the almighty, you might want to delay until May."
Yellen didn't bother to address Sherman's divinely inspired words, but assured the congressmen that "the committee anticipates a very gradual increase in interest rates."
December is "a live possibility" for a rise in rates, Yellen said. Her signal is seen as the primary reason for a break in Wall Street's two-day rally. In October, the first woman Fed Chair announced interest rates wouldn't be raised at that time and, with alarm over a China bust dwindling, markets had been enjoying a rise in stocks prices until Wednesday's congressional hearing.
The Dow ended down 51 points, while the S&P 500 dropped 0.4 percent and the Nasdaq composite slid 0.05 percent into negative figures after her meeting with the congressmen. Futures company CME Group put the odds of a change in interest rates in December at 60 percent.
Yellen's testimony regarding the Large Institution Supervision Coordinating Committee, or LISCC (pronounced "lis-sick"), did not sit well with markets either. LISCC is a regulating arm of the Fed that oversees the 16 largest financial institutions in the country. They include eight US banks colloquially called "too big to fail," four foreign banks with significant US operations, three insurance companies, and GE Capital, a non-bank financial unit under General Electric.
LISCC's findings showed that many of those institutions would be incapable of surviving another collapse similar to the one in 2008. Upon close examination of compensation and stock buyback activity, LISCC can limit pay bonuses to prevent what it interprets as an incentive to take on too much risk. Exactly how that is to be done is still unknown, however, as the Fed has yet to come up with a policy, despite the Dodd-Frank Act of 2010 requiring it to do so by the end of 2011.
Yellen told the House committee that risky business practices had led to the financial crisis in 2008, and the biggest institutions were still not handling those same hazards as they should under her watch.
"The financial condition of the firms in the LISCC portfolio has strengthened considerably since the crisis," Yellen said in prepared remarks.
"Nevertheless, while we have seen some evidence of improved risk management, internal controls, and governance at the LISCC firms, they continue to have substantial compliance and risk-management issues."
The nation's central bank is also not in full compliance with the Dodd-Frank Act of 2010 in the realm of lending. The post-crisis law put restrictions on the Fed's emergency loan program, and Yellen said it will reveal its new rule changes regarding that program before December.
Furthermore, Dodd-Frank also mandates a vice chairman position be created for LISCC supervision, but President Barack Obama has not made any nominations. That leaves Yellen to fill the role that's required to report to Congress twice a year.