Judge with a history of sentencing couples to marriage faces backlash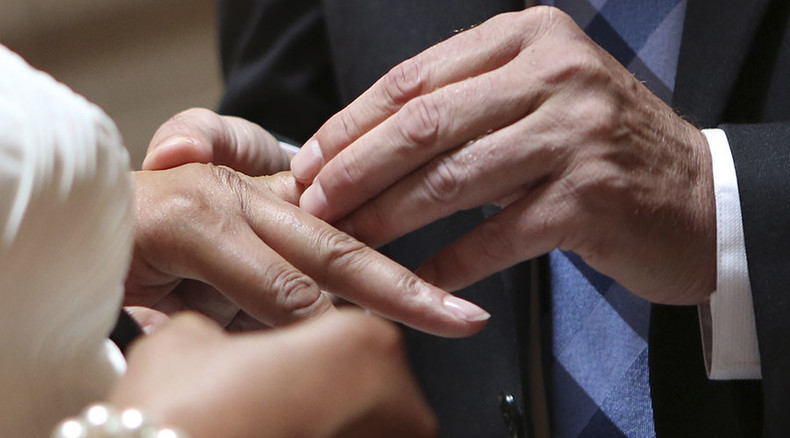 A Texas judge's knack for sentencing defendants to marriage is catching up with him: Past defendants are coming forward to share their stories after seeing news of a 21-year-old and 19-year-old ordered to marry as punishment.
"It was so much like my case," Michelle Powell told KLTV. "I was heartbroken for them, because I know the pain."
Powell had watched a news report of Josten Bundy, 21, being forced by Judge Randall Rogers to choose between marriage or 15 days in jail for the misdemeanor crime of punching his girlfriend's ex-boyfriend. Judge Rogers told Bundy he wouldn't be allowed to contact his employer, so out of fear of losing his job, Bundy and his girlfriend Elizabeth Jaynes, 19, opted for marriage.
Powell had made the same choice when she and her boyfriend were both defendants charged with misdemeanor shoplifting. Though both cases took place in July 2015, it was Bundy's story that made the news later, catching Powell's attention. Court transcripts from Powell's case provide the following exchange:
"Are they husband and wife?" Rogers asks.
"We're engaged," Powell responds.
"If you get within 100 feet of him during the probation, you go to jail," the judge stated.
Powell, who had no prior record, didn't have an attorney present. Out of fear of being kept from her boyfriend, she acquiesced to Judge Rogers' proposal, getting married within two weeks. Although Rogers said, "I am not going to force you," he also stated, "this will turn out to be a life sentence."
Bill Bull also saw the news report and remembered his 27-year-old son, Benjerman Bull, and his son's girlfriend facing similar consequences in a December 2012 hearing on charges of misdemeanor theft.
The couple was ordered not to be around each other, but upon learning they lived together, Rogers said, "Then you are going to have to move. You go around him on probation, you go to jail. You figure out how much that fiancé cares for you. Now, if you get married, that's a different story," according to court transcripts.
Ultimately, Benjerman Bull married his girlfriend, but it amounted to unfair punishment, the father says.
"The marriage did not benefit [my son], it made things worse on his way of life," Bill Bull told KLTV. "It made it worse on his emotions, he was under distress all the time. It created more financial and emotional problems."
After an asthma attack left Benjerman in the hospital brain dead, his wife used her capacity to make medical decisions the father disagreed with.
"It upset me quite a bit knowing that he was already brain dead and was not going to survive," Bill told KLTV. "That marriage certificate enabled her to keep him alive longer and for no reason. My son would not have wanted to live that way."
Judge Rogers recused himself from the Bundy case after a media storm erupted, and he isn't commenting to the media as that case transitions to another judge.