Georgia grand jury recommends no charges in controversial police shooting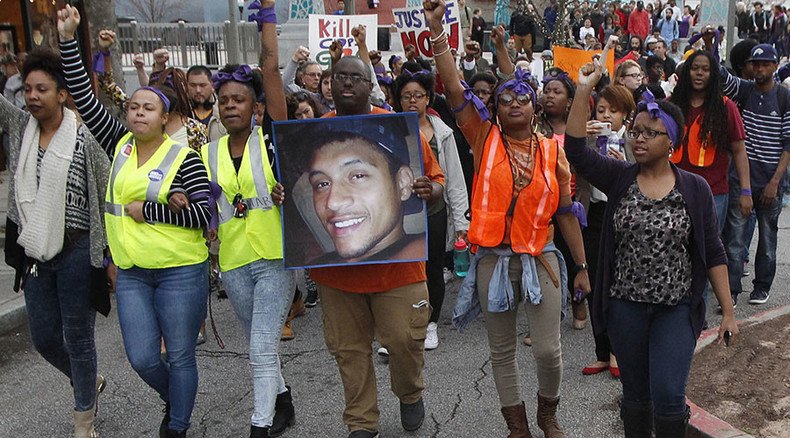 A Georgia grand jury recommended no charges be brought against a police officer who shot a man and a family dog while responding to a domestic violence incident. A second officer-involved shooting of a naked veteran, is to be investigated further.
In the first case, the Dekalb County grand jury recommended no charges be brought against a police officer, Joseph Pitts, who shot and killed African-American Kevin Davis and a dog that belonged Davis and his girlfriend. Davis had called 911 about his girlfriend, April Edward, who had been stabbed by their roommate.
The incident happened in December 2014, when the police officer arrived on the scene and the large dog lunged at him. Pitts claimed the situation forced him to shoot and kill the dog. Davis and Edward's roommate, Terrance Hilyard, had already fled the scene but Davis, 44, was at the apartment with a gun. The officer said he repeatedly asked Davis to drop the gun and when he didn't comply, the officer shot Davis twice in the abdomen.
"It was him or me," Pitts told the grand jury earlier this week, according to The Atlanta Journal-Constitution.
Davis died two days later and Hilyard was arrested when he returned to the apartment.
"The family of Kevin Davis is devastated by the news and they have vowed to continue fighting for justice for Kevin," the family's attorney, Mawuli Davis (no relation) told the AJC. "The need for a legislative mandate for body cameras is underscored by this decision. The grand jurors were left to rely on the word of the officer."
In a separate case involving the same Georgia grand jury, police officer Robert Olsen responded to reports in March 2015 about a naked man who was jumping repeatedly off his second-story balcony. Olsen shot an African-American man, Anthony Hill, a 27-year-old Air Force veteran, when he allegedly failed to obey orders to stop coming towards the officer.
The officer told the grand jury he, too, felt compelled to protect himself when Hill, nude and unarmed, did not obey orders. Hill's officer-involved death, as well as Davis', sparked widespread protests at a time of national debate over police use of force.
An expert witness on behalf of the prosecution said he could find no justification for the shooting. Friends of Hill told the AJC that he had struggled to find the right medication for his bipolar disorder, which was diagnosed while Hill was serving in Afghanistan.
The grand jury in the Olsen/Hill case recommended that a follow-up interview be conducted with the officer who arrived on the scene after the shooting, along with a "more thorough interview" of the officer who fired the deadly shots.
You can share this story on social media: