Zachary Hammond 'shot in cold blood' by SC cop who won't be charged ‒ family lawyer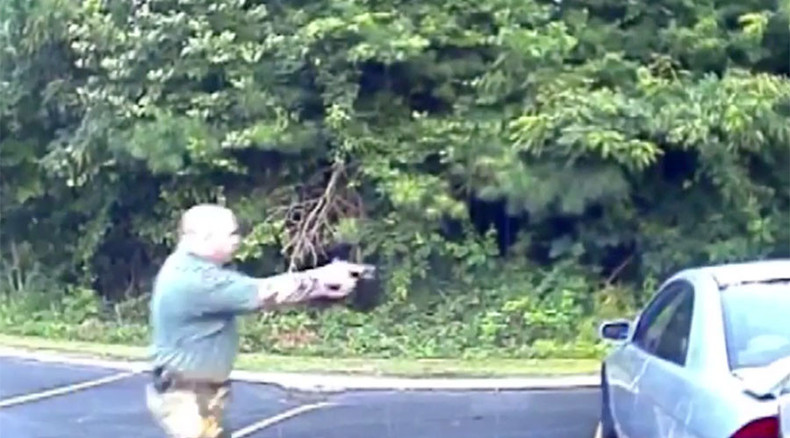 Although the South Carolina police officer who shot and killed an unarmed 19-year-old during a low-level drug sting gone wrong this summer won't face charges, it's "obvious" that he was murdered, according to the attorney for the young man's family.
Zachary Hammond, who is white, and a female friend, Tori Morton, were in a Hardee's parking lot on their first date when Lieutenant Mark Tiller pulled up behind their car, his lights flashing. Earlier, Morton had mistakenly sent a text to a State Highway Patrol trooper arranging a drug deal, the Post and Courier reported.
The dashcam footage of the incident was released Tuesday. In it, you can see Tiller approach the car. You can hear him tell those inside to get out of the car and curse at them. Within seconds, Zachary's car is out of view, and that is the moment he was killed by Tiller.
"I think the officer should be charged and [someone] has to answer for my son being gone," Zachary's father Paul Hammond told RT in August. "I mean, he's only 19 years old, and the rest of our [lives] we're going to live with this. And we're never going to be able to celebrate anything again with Zach."
The video solidified the family's belief that the officer should be prosecuted because it showed that Tiller killed Zachary "in cold blood," Eric Bland, the Hammond family's attorney, told RT.
"There isn't a criminal justice academy in the world that would teach a police officer to do what Lt. Tiller did, from the start of how he came in, as fast as he was coming, before the drug transaction had an opportunity to be even started or consummated," Bland said.
He noted that Tiller never identified himself as a police officer, he never showed Zachary his badge and he came up to the car screaming with his gun already drawn.
"Even before any crime was committed, he told this 19-year-old, unarmed teen that he would blow his 'effing a off'," Bland said. "And Zachary fled, no question about it. But there isn't glasses in the world that would indicate, if you put them on, that that car was heading towards Lt. Tiller. It was arcing away from Lt. Tiller to leave the parking lot. And he was shot. He was shot in cold blood."
Yet on Tuesday, 10th Circuit Solicitor Chrissy Adams determined that Tiller, a Seneca police officer working undercover at the time, acted justifiably when he shot Zachary, even though a private autopsy ordered by the Hammonds family showed he was shot in the side and back.
Hearing that Tiller wouldn't be charged at the state level "really didn't come as a surprise based on every action the solicitor had taken since the shooting," Bland said. "It's obvious that she was focusing her attention on the victim and not on Lt. Tiller."
According to the lawyer, Adams never read Tiller his Miranda rights, nor did she require a toxicology blood test be done on him to see if there were any drugs in his system at the time of the shooting.
"The solicitor just, she asked the right questions, she asked the right people, she did what an investigation was, she just got every single question wrong," Bland said.
The reason this happened, he said, is because "South Carolina, unfortunately, gives tremendous, tremendous discretion to local solicitors, who are political figures who seek election. And Chrissy is up for election, she had lost in a nearby county that was part of her jurisdiction, and so we just believed from the start that this was a political decision by her for some of her constituents, and it's a disgrace."
Bland also called on other politicians, including the South Carolina governor, to weigh in on Zachary's shooting. He noted that the only person to do so is state House Minority Leader Todd Rutherford, who called the incident "outright murder" after seeing the video.