US budget deal could mean fast passage of defense bill aiding Syrian rebels, Ukraine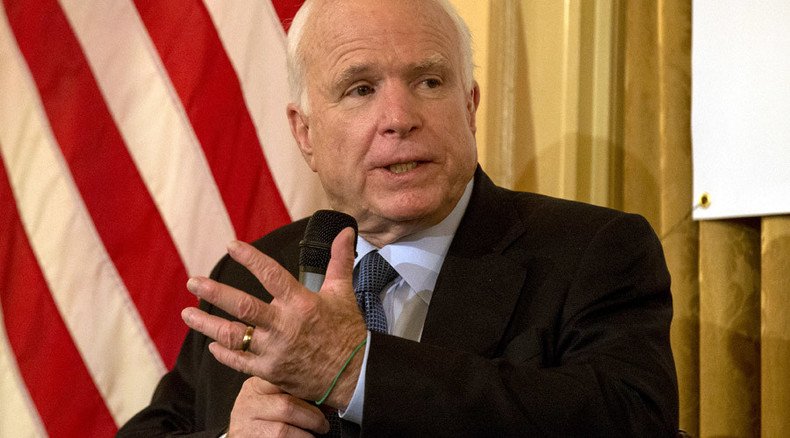 Top US lawmakers said that they anticipate the fast passage of a massive defense authorization bill now that a two-year budget deal has been struck. The bill includes funds for Syrian rebels, the Ukrainian government and stalls the closure of Guantanamo.
The sweeping two-year budget deal staves off the threat of a government shutdown for the rest of President Barack Obama's term, raises the national debt ceiling until spring 2017, and also increases domestic and military spending.
The caps on defense spending would increase by roughly $25 billion in each of the next two fiscal years: to 548 billion in 2016 and 551 billion in fiscal year 2017. Another $32 billion, spread over two years, would be provided for the Overseas Contingency Operations (OCO) fund, which is used to fight the war against the Islamic State (IS, formerly ISIS/ISIL) in Iraq and Syria and for operations in Afghanistan, according to The Hill.
Non-defense spending, meanwhile, would rise $25 billion in 2016 and $15 billion in 2017.
That boost in defense spending nearly meets the president's requested figure for 2016, however, it falls about $5 billion short of what military planners first sought.
Rep. Mac Thornberry (R-Texas) said he expects the National Defense Authorization Act (NDAA) to be reintroduced or resurrected in the next few days, after the broader budget agreement is finalized, the Military Times reported. This bill allocates funding for the Defense Department, including aid for Ukraine and rebels in Syria.
Senator John McCain (R-Arizona) didn't know where the $5 billion in cuts would come from, but said he was confident a solution would be reached.
"I think everybody is going to agree," McCain, the chair of the Armed Services Committee, told The Military Times. "We'll have to redo it, take $5 billion out, but hopefully we'll get it done. I don't think it will take much time."
On October 22, President Obama vetoed the then-$612 billion NDAA bill, saying "it fails to authorize funding for our national defense in a fiscally responsible manner."
One of the sticking points was the $38 billion that Republican lawmakers wanted to add to the Pentagon's overseas contingency fund, since they wanted to increase defense spending but leave domestic funding untouched.
Some $600 million was earmarked for a program to support "appropriately vetted" Syrian rebels that are fighting both IS and the government of Syrian President Bashar al-Assad. About $531.5 million would go directly to the Syria Train and Equip program. An additional $25.8 million would go to the US Army and $42.8 million to the US Air Force, to cover the costs of their participation.
Another $300 million would go to the Ukraine Security Assistance Initiative aimed at supporting the Ukrainian government, which is fighting rebels of its own. This initiative included "lethal assistance such as anti-armor weapon systems, mortars, crew-served weapons and ammunition, grenade launchers and ammunition, and small arms and ammunition."
The bill instructs the Pentagon to coordinate with the State Department to "provide appropriate security assistance and intelligence support, including training, equipment, logistics support, supplies and services, to military and other security forces of the Government of Ukraine."
The NDAA also contains provisions for blocking plans to shut down the detention camp in Guantanamo Bay, which Obama criticized when he vetoed it.
"Let's make sure that, in a responsible way, we can draw down the populations in Guantanamo, make sure that the American people are safe, and make sure that we're not providing the kinds of recruitment tools to terrorists that are so dangerous," Obama said last week.
Republicans were quick to criticize the president. McCain called Obama's veto "reckless, cynical, and downright dangerous."
"At a time when crises around the world have never been greater, and when US global leadership has never been weaker, this veto will only intensify the challenges we face while putting vital missions in danger," he added.
LISTEN MORE:
You can share this story on social media: