University of Mississippi takes down state flag with Confederate symbol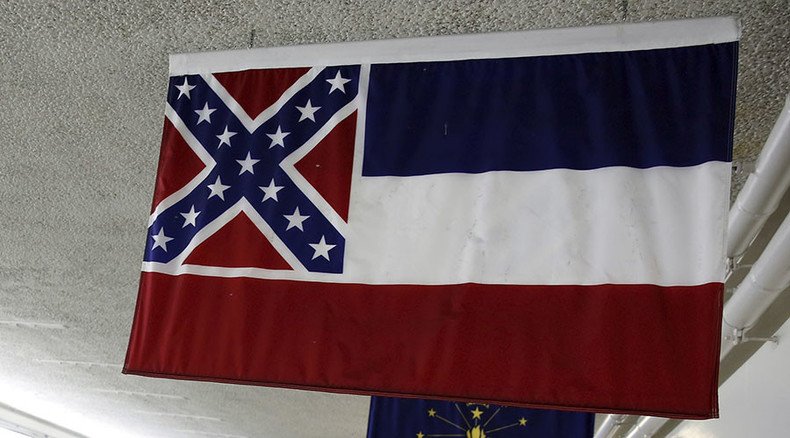 Students successfully pressured University of Mississippi officials to remove the state flag from campus because it features the Confederate battle symbol. What remains is a clash of opinions between faculty, politicians and students alike.
"I'm just proud our university can take a stand like this. It's the right thing to do. It helps move us forward," athletic director Ross Bjork told the Associated Press. Bjork found the Stars and Bars emblem limiting in terms of efforts to recruit student athletes to the university.
"Universities are supposed to be marketplaces of ideas, not cocoons designed for coddling the feelings of the perpetually offended," wrote state Senator Chris McDaniel on his Facebook account. "Free thought doesn't ban, censor or remove; it explains, convinces and tolerates dissent," he continued.
The removal came on Monday, six days after a 33-15-1 vote by the student senate. Faculty, staff, and graduate student organizations had also found similar results when taking up the issue earlier this year.
The flag descended in the Lyceum circle, where it had flown in 1962 during a riot that killed one, upon the enrollment of the first black student under court order.
After nine African-Americans were murdered in a Charleston, South Carolina church in June, photos emerged of the mass-murderer posing with the Confederate flag. Debate over the symbol rose to a fever pitch across the country, and subsequently the flag was removed from the South Carolina state capitol. Alabama, Florida, Kentucky, Louisiana, Maryland, North Carolina Tennessee, Texas, and Virginia also removed it or changed how they pay homage to Civil War history.
"The University of Mississippi community came to the realization years ago that the Confederate battle flag did not represent many of our core values, such as civility and respect for others," Interim Chancellor Morris Stocks said in a June statement. "Since that time, we have become a stronger and better university. We join other leaders in our state who are calling for a change in the state flag."
Mississippi remains the last state with the Stars and Bars in its flag. Since the legislative session ended in April, combined with a reluctant Governor Phil Bryant, prospects for a change are difficult to gauge. In 2001, a majority of voters rejected a referendum to remove the Confederate symbol from the state flag by nearly two-thirds.
"Because the flag remains Mississippi's official banner, this was a hard decision. I understand the flag represents tradition and honor to some. But to others, the flag means that some members of the Ole Miss family are not welcomed or valued," Bjork told AP.
Ole Miss is the University of Mississippi's nickname. Referring to how a plantation owner's wife might be addressed by slaves, the term appears to have evolved in its meaning by those who use it. Visual relics haven't survived so well. Colonel Rebel, the campus's ex-mascot, was retired from on-field appearances in 2003 and replaced by Rebel the Black Bear in 2010, as a nod to the legend of Theodore Roosevelt refusing to shoot a black bear in Mississippi.
One of the student senators to vote against removing the flag, a business major named Andrew Soper, said in an AP interview, "I think the state flag is a state issue, not a university issue."
Speaking to NPR, Haley Williams, a black student majoring in biology, said, "The flag being down is not the final step. If anything it's just the beginning of a process of more equality here on campus."
You can share this story on social media: