Enormous teeth of ancient 60ft megalodon shark found on NC beaches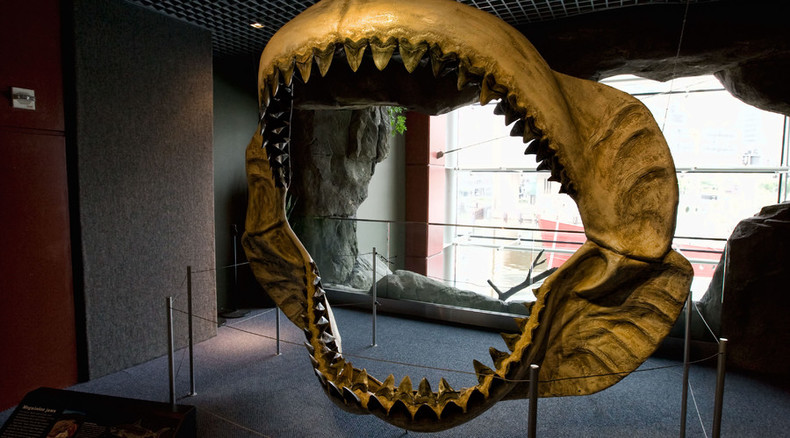 Beachgoers in North Carolina were given a shock when the fossilized teeth of an ancient shark washed ashore. The not-so-pearly-whites are believed to have belonged to a 60-foot megalodon.
The teeth, found at North Carolina's Topsail Beach and Surf City, are believed to have belonged to the megalodon – a prehistoric shark which dominated the oceans 15 million years ago.
"Oh my God, like I said, I felt like I was a lottery winner or something," beachgoer Denny Bland told local NBS affiliate WITN. "It's like I'm the first one to touch that since it fell out of his mouth back in the day."
The enormous size of the teeth is indicative of the size of the megalodon whose massive jaw once housed them. When measuring sharks it's believed that every inch of tooth equals 10 feet in length – so the 6-inch teeth are thought to have belonged to a 60-foot king of the sea.
"I couldn't have gotten a million dollars and been any happier. Even the small ones, if you see a small shark's tooth, it just excites the heck out of you," Bland said.
Experts say the North Carolina coast is known as an ideal spot to find fossilized teeth from the giant shark. The teeth washed up following beach dredging, rains, and high tides.
It comes just two months after a 5-inch megalodon tooth was found in Croatia's Kupa River.
The megalodon was given its name in 1843 by Swiss-born biologist Louis Aggasiz. The extinct fish is believed to have weighed up to 30 times as much as a great white shark, clocking in at 70 to 100 tons.
Its fossil record remains incomplete, making its date of extinction unclear.
You can share this story on social media: