'Little Guantanamos': Super-secret US prison units axe communications for inmates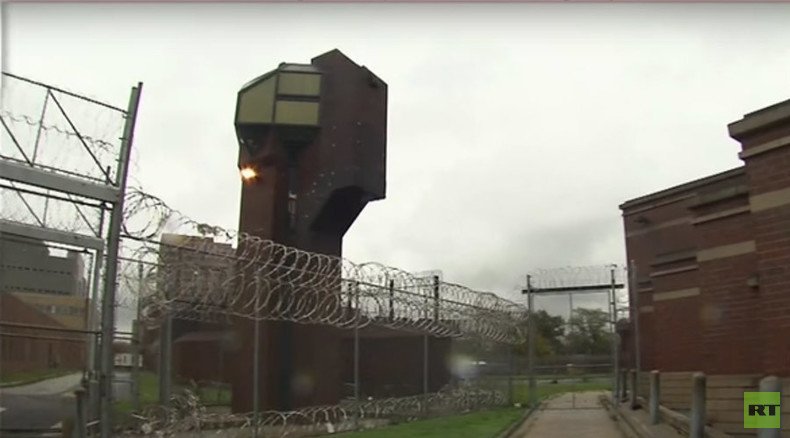 An investigative journalist is speaking out about the Bureau of Prisons' use of Communication Management Units to house political and religious prisoners, primarily Muslims. Once inside, inmates have restricted rights to visits, phone calls, and letters.
"The people who are there … are overwhelmingly Muslim, and then there are a handful of prisoners that are there because of their 'anti-government and anti-corporate views,' particularly environmental, and a couple of animal rights activists," investigative journalist Will Potter told RT.
Potter was one of the few journalists allowed to visit a CMU when he visited Daniel McGown, an American environmental and social justice activist who was arrested and charged with arson. He was sentenced to seven years' imprisonment and released on parole in 2013. Potter was allowed to visit him as a friend.
"They told the prisoner Daniel McGown that if I wrote anything about our visit, he would be subjected to harsher penalties because of that," Potter told RT. "When I arrived at the prison, I was reminded that prison officials knew who I was and that if I asked any questions that my visit would be immediately terminated."
Very little is known about the units, which were introduced a decade ago during the George W. Bush administration's launch of the "war on terror."
It is estimated that about 70 people are being held in CMU units in two federal penitentiaries – in Terre Haute, Indiana and Marion, Illinois. They were created to isolate and segregate certain prisoners from the general prison population, and to restrict and monitor communications between inmates and the outside world. Once assigned to the CMUs, prisoners are banned from any physical contact with friends or family, and phone calls and letters are restricted too.
"When the government … says how communications should be monitored by prisoners, I think we all would obviously agree that the prison needs to keep prisoners safe and the public safe," Potter told RT.
"But what's left out … is that all communications from prisoners are already monitored," he added, saying the question becomes "why are some inmates being singled out and sent to special prison units with radically restricted communications, to the point that they can't even hug their families or their children, where no journalists are allowed."
The Center for Constitutional Rights said the Bureau of Prisons was violating federal law when it transferred inmates to the units without explanation, and held them for years without accurate information about how they could be transferred back to the general prison population. The CCR filed a lawsuit in 2010 to challenge the denial of due process.
Potter said the units are not being used for violent or dangerous terrorists, but for political cases the government would like to keep out of the public spotlight and the press.
CMU prisoners receive only eight hours of non-contact visiting time and two 15-minute calls – all of which must occur in English – per week. Letters are limited to three double-sided pages per week, according to the CCR. Prisoners in the general prison population receive four times as much contact visiting time per week, 300 phone minutes and unlimited written correspondence. CMU units are also audio-surveilled.
Inmates describe visits, phone calls, and letters they receive as "the flecks of light in the darkness that is prison," according to Potter. He said the Prison Bureau acknowledges how important those community and family contacts are to inmate wellbeing and quality of life, and also for their adjustment once they are released.
"So depriving them … affects not only their personal well-being, but their family and potentially [makes] us less safe as well," Potter added.
Additionally, the units are stigmatizing because they are described publicly as a terrorist unit. The Bureau of Prisons argues they do not use religion or political views to determine who goes to the CMUs, but Potter disagrees, claiming that more than 70 percent of the population is Muslim.
"I think there is something else going on here," he said. "We are not talking about the Zacarias Moussaouis and the 9/11 hijackers of the world. We are talking people like Yassin Aref, who was found guilty of being part of a terrorist conspiracy when, in actuality, he was an iman and was asked to bear witness to a loan, a tradition in Islamic culture."
"It turned out that one of the people in the loan was trying to entrap someone else in a fake attack. So some of these cases are clearly questionable and are about people's political [religious] beliefs."
You can share this story on social media: