Man says his 3D-printed railgun can fire bullets at 900 km/h (VIDEO)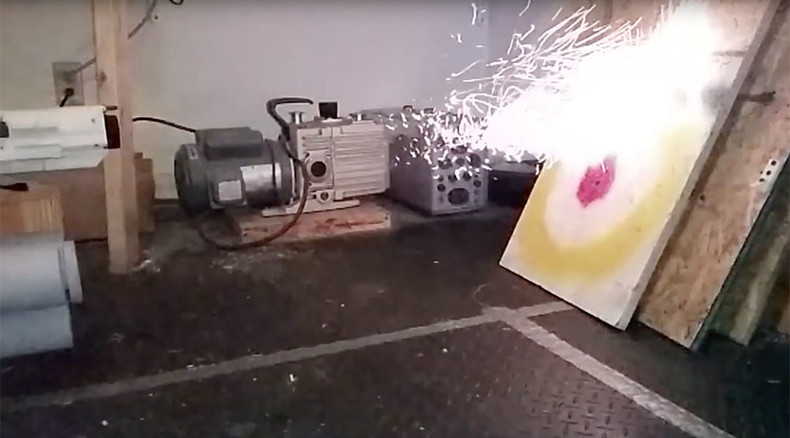 Just about anything can be 3D-printed nowadays, from skyscrapers to jet engines. Now one man may have copied the ultimate weapon: a full-sized railgun. He says it is capable of firing objects at over 900 km/h.
The man, whose identity is unknown, built the railgun and posted an image on Imgur under the user NSA_Listbot. He says he is not an engineer with a major defense firm, but he managed to get together the important parts needed to put them through a 3D printer and create his very own railgun.
His creation is said to fire a number of different metals, including aluminum, graphite and plasma at speeds exceeding 900 km/h.
The six capacitors that are used by the railgun, which can be handheld, deliver more than 3,000 kilojoules of energy for every shot taken.
"I have no idea what happened to that piece of carbon – probably just vaporized," the user wrote on video posted on YouTube, as he demonstrated how the weapon worked.
However, this effort has some way to go to reach the heights of railguns developed by the US Navy. They established a weapon capable of firing at over 9,000 km/h and also function using an electrical pulse, which is used to create an electromagnetic field to propel a projectile.
Railguns have a large price advantage over more conventional weapons and missiles. Railgun projectiles are believed to cost about $25,000 per unit – 100 times less than traditional missiles, according to Rear Adm. Matthew Klunder, Chief of Naval Research.