Family of unarmed Michigan teen shot 7 times by officer files lawsuit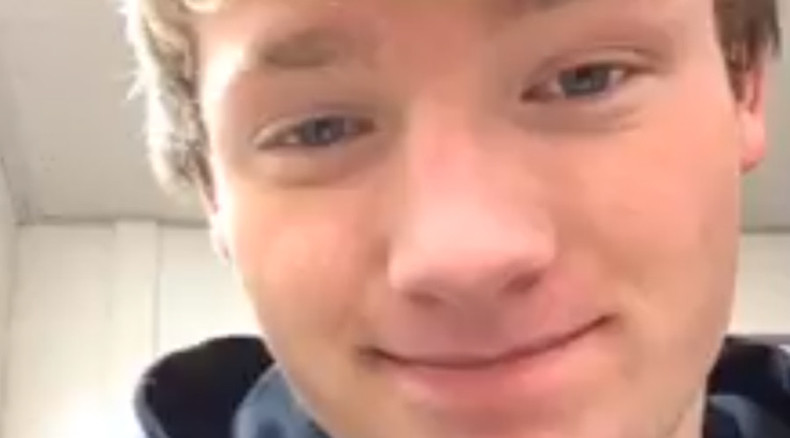 The family of an unarmed teen who was shot dead by a sheriff's sergeant after flashing his car's lights at him has filed a federal lawsuit against the officer. The move comes four months after the officer was cleared of criminal wrongdoing in the homicide.
Deven Guilford, 17, was driving along a Michigan highway on a cold February night and flashed his car's headlights at a police SUV to indicate that it had "improperly or misaimed headlights," according to the lawsuit. The teenager was subsequently pulled over by Sgt. Jonathan Frost, who was driving the SUV and had stopped two other drivers for also flashing their lights at him that night, the complaint said.
The incident was caught on Frost's bodycamera.
As well as on Guilford's cellphone.
After he was stopped, Guilford – who had been holding up his phone to record the incident – refused to put his hands behind his back or give Frost his license and registration, leading to the officer demanding that the teen step out of his vehicle.

"Put your phone down and get your hands behind your back," Frost said with his Taser aimed at Guilford. When the teen wouldn't comply as the officer was trying to handcuff him, Frost fired his Taser into Guilford. The stun gun wasn't fully effective because only one of two probes embedded into the teen, and Guilford retaliated to the shocks by getting up and pummeling the officer, according to the prosecutor.
The altercation continued in the ditch by the side of the road, and Frost drew his gun and shot Guilford seven times. While the officer was left with a bloodied face, Guilford ended up dead in the snow.
A complaint filed Wednesday on behalf of Guilford accuses Eaton County Sheriff's Sergeant Jonathan Frost of excessive use of force and unconstitutional privacy violations.
The suit requests a jury trial in the case, but does not seek specific monetary damages, according to the Detroit Free Press.
"As we take this action today we are outraged at the huge miscarriage of justice done to our son Deven Guilford," the boy's parents, Brian and Becky Guilford, said in a statement on Wednesday.
READ MORE: 'Has to be answer' for son's death – family of white SC teen killed by cop speaks out
The federal lawsuit comes just four months after Eaton County Prosecuting Attorney Douglas Lloyd declined to bring criminal charges against Frost.
An internal investigation into the shooting released in August determined that the sergeant followed Eaton County Sheriff's Office "regulations, general orders and training."
"I don't understand how an innocent situation can escalate so much to end in the death of a harmless kid," Guilford's brother Aaron Guilford said in a statement to the State Journal. "Deven was listening to Frost's commands, he never swore or used any profane language. He was confused and he never received any respect in return."
Supporters of the Guilford family are planning to hold a rally at the Michigan State Capitol from 2:00pm to 5:00pm on October 24.