Murdered woman found hanging from fence mistaken for Halloween decoration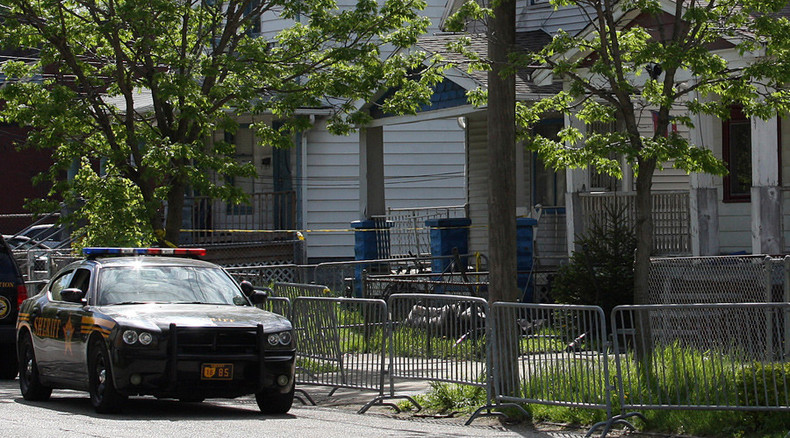 Construction workers in Ohio were shocked to discover that the figure of a woman hanging from a fence was not a Halloween decoration, as initially thought, but a real dead body.
Ohio police told reporters the body was discovered at 8:30am on Tuesday in Chillicote, according to the state's local outlet WKRC. The shock value was all the greater because it's Halloween time, when people engage in pranks and make-believe. But this was anything but that.
The gruesome scene showed the body dangling lifelessly by a sleeve. The police were immediately called, and it was determined the woman had sustained injuries, but not mutilation. One local, Tammy Dixon, told WKRC "I just put my hands over my face and said, 'This can't be happening here, it's not real and I just didn't see what I thought I saw.'"
Forensics have determined that the local woman, a 31-year-old Rebecca Cade, was badly beaten in her final moments. Neighbors told reporters they couldn't recognize her face.
Police initially tried to link the motive to the unsolved deaths of four other local women and disappearances of two more in Ross County in the last 18 months. But Tuesday evening they arrested Donnie Cochenou Jr., 27, who had confessed to the killing and was allegedly arguing and fighting with Cade before things escalated. The motive, while less mysterious, remains unclear.
Couchenou Jr. is being held on $2 million bail.
One other detail that emerged was the Cade had been running from her attacker when she got caught in the fence. A Wednesday afternoon briefing determined the cause of death as blunt-force trauma to the head and neck. There were signs of a struggle, according to the police, who also say the murder weapon is most likely the bloody rock found lying next to the body.
Autopsy results are pending. But according to neighbor Diana Carter, the family of the victim is haunted by the fact that the two – victim and attacker – never actually fought.
"We didn't do enough, we should have done more. It is a young girl's life that now is taken," Carter said. A friend of Cade's, who shared a house with her for two years, says she's incredibly distraught by the fact that Cade was such an honest and kind person – owing to a learning disability, which left her with a very big heart for anyone who would be her friend, or even pretend.
"I was shocked, I mean, it is very heartbreaking because she was such a nice girl, I can't fathom it, I don't think it's set in yet," Tabitha Long said.
Cade also had a 15-month-old son, who now lives with her sister, Denise Hughes, after Cade had "lost interest" in him. But that is not the picture Hughes wanted to paint. "Rebecca didn't deserve that, what happened to her. She was always running the streets and always doing the drugs, but she had people who loved her. I hope she knew that."
The police offered a glimmer of hope and reassured the community of its commitment to stamping out violent crime of this sort in the community.
"This person is behind bars, locked up where he needs to be. Hopefully taking him off the street will make this community a little bit safer. We need the public's help, they need to be vigilant and watchful."
Six murders and disappearances have taken place there since the summer of 2014, all of them unsolved.
You can share this story on social media: