Hunger-striking Gitmo prisoner might get medical exam for potential release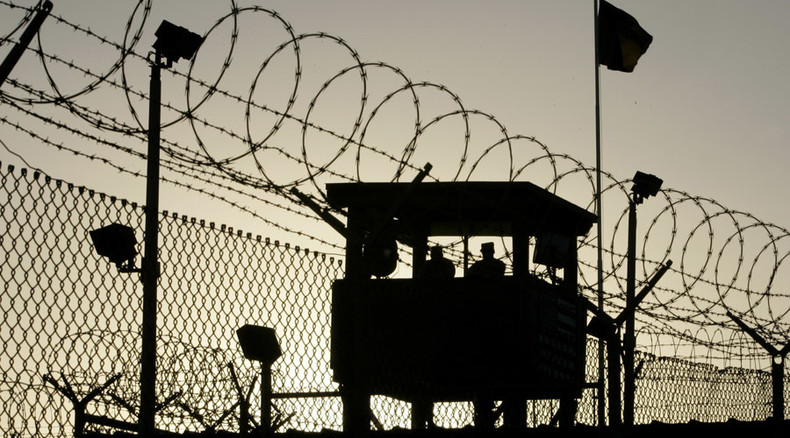 A US judge has said that he might order an independent medical exam for an ill, hunger-striking Guantanamo Bay detainee in order to determine whether he should be released on account of his deteriorating health condition.
During a Thursday hearing, US District Judge Thomas Hogan said he would look into the possibility of creating a "civilian-military medical commission" that could inspect the health of 36-year-old detainee Tariq Ba Odah, who has been held at the prison complex in Cuba since 2002.
Attorneys for Ba Odah have argued that he should be freed for health reasons as his life is in danger, while lawyers for the US government argue that he has declined medical aid and that his current state is a result of his own actions. Ba Odah has been on a hunger strike since 2007 and has been force fed liquids by American officials.
Without an independent exam, Judge Hogan said it would be "very difficult for me to conclude that he has to be released for other medical treatment," as quoted by Reuters.
Ba Odah's case has been playing out for months now. A Yemeni native, he was cleared for release from Guantanamo years ago but has yet to be transferred. US officials have ruled out a transfer to his home country because of instability there and there has been no indication that another country would take him in. US attorneys have also argued that releasing him would potentially convince other detainees to go on hunter strikes in order to be transferred.
While Ba Odah has been force-fed, the 5-foot, 3-inch tall man has seen his weight plunge to just 74 pounds (33 kilograms) since his hunger strike began. His lawyers said this is about as much as an average 10-year-old American child weighs.
"Common sense dictates that Mr. Ba Odah is starving because his body is failing to properly absorb and process the liquid calories and nutrients he is being force fed. No other conclusion is viable unless one presumes the government intends to maintain him at just 56 percent of his ideal body weight while he is on hunger strike," defense attorney Omar Farah, the lawyer provided by the Center for Constitutional Rights (CCR), wrote in a legal memorandum back in June.
Ba Odah has been described by the US as an "Islamic extremist and possible member of al-Qaida," according to official documents compiled by the New York Times. The US claimed he served as a fighter for Osama Bin Laden and "participated in hostilities" against the US in Tora Bora.
On Thursday, Farah told Reuters that US policy on Guantanamo is "totally incoherent" because President Obama wants to close the facility, yet Pentagon and Justice Department officials are blocking the release of dozens of detainees. There are 114 detainees still in US custody.