Cars trapped in 'life threatening' flooding, mudslides in Southern California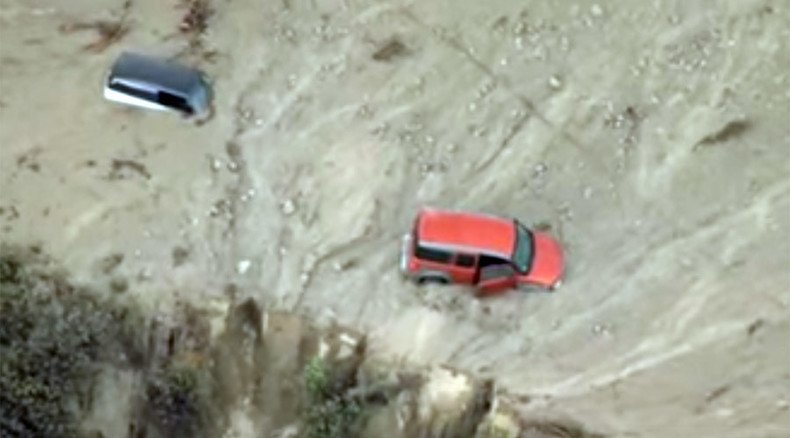 A powerful storm system in Southern California caused flash flooding and mudslides in Los Angeles County on Thursday, stranding drivers and triggering a variety of severe weather warnings.
According to the National Weather Service, heavy rain and "life threatening flooding" is occuring in Antelope Valley in northern LA County, near the areas of Leona Valley, Quartz Hill and West Palmdale.
A severe thunderstorm warning is in effect until 6:45pm local time. A flash flood warning is also in effect until 5:00pm local time for Ventura County.
In some areas, near Fairmont Dam and Leona Valley, the rain was falling at a rate of four to six inches per hour, the Weather Service stated.
Flash floods and mudslides have been reported near Elizabeth Lake and the Lake Hughes area, with some drivers getting stuck in the mud.
Interstate 5 north of Santa Clarita Valley was also shut down as a result of the mud, according to the Valley Signal newspaper.
Rescue crews were working to find drivers that are potentially stranded, KTLA reported. So far, no injuries have been reported.
Firefighters had to rescue four people and a dog from one vehicle near Lake Hughes, according to the Los Angeles Times. They were taken to safety via a helicopter.
"Our biggest concern is people getting caught in mud and debris," LA County Fire Department Inspector David Dantic said, according to the Valley Signal. "We want people to know that overflows are not very safe."
"The conditions of the roads are very tough to get through, so we are having our helicopters overhead trying to get a better vantage point," Dantic added, according to KTLA. "There were reports that there are people in the truck there. ... We're getting reports there might be other people stuck in their cars."
One aerial photo also showed drivers and passengers exiting their vehicles due to the mudslides.
The storm also generated hailstones the size of golf balls.
Rescue teams were also called in to rescue two parents and an infant who were stuck on a house roof in Lake Hughes, according to the Valley Signal.
You can share this story on social media: