Police use pepper spray on protesting high school students in Rhode Island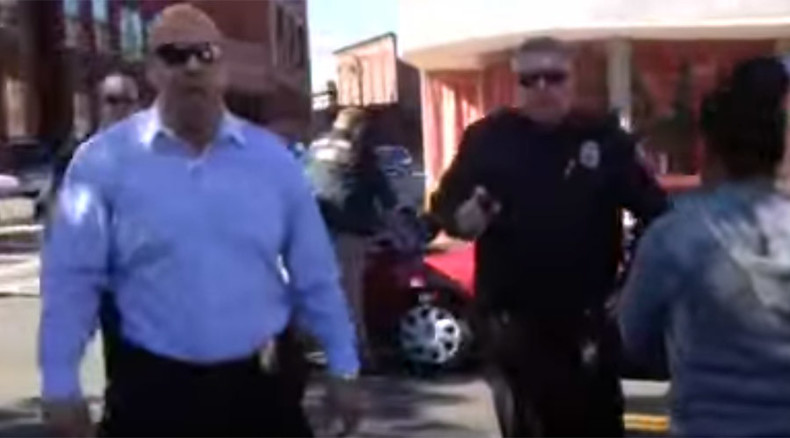 Eight students and two adults were placed under arrest, with some being pepper-sprayed following a protest outside of Pawtucket City Hall, Rhode Island. The protest was sparked by a video of a security guard slamming a student to the ground during a scuffle.
About 200 students took part in the protest Thursday, which was staged in response to a video that was posted online Wednesday, which purportedly showed a security guard slamming a student from Tolman High School to the floor, according to WPRI.
READ MORE: 16 arrested at sit-in against Baltimore's police chief appointment
The incident occurred after a school security guard arrested a 14-year-old boy who was shouting profanities and threatening to fight another student, police said. The boy's 17-year-old brother tried to intervene and pushed the guard, prompting both boys to attack the officer, with one of them striking him in the face.
The older brother was floored by the guard, with the guard then using a takedown maneuver on the younger one, according to police. A large group of students formed outside the guard's office during the struggle while teachers and staff tried to keep them under control.
This led to a demonstration of about 100 students at the school which began around 8:00am on Thursday which was initially peaceful, but erupted into chaos after a fire alarm went off in the school, leading to students being evacuated.
Pawtucket police and Mayor Donald Grebien were at the scene, encouraging students to be obedient and return to class.
"The message is for cops to ease up on kids. We shouldn't be treated as criminals," said Tolman student Montrell Sivils to WPRI.
Later, a small delegation of students was invited to discuss the incident at City Hall, but 200 students joined in a protest outside.
When a student allegedly broke a car window, the protest moved from city hall to a parking lot of a private business. Police said that protesters began to spit at and threaten police, at which point officers started to use pepper spray on several individuals.
A total of 10 people were arrested, including the student who pulled the fire alarm and the person who broke the window, police said.
Mayor Grebien said that he is going to meet with students to discuss the video on Thursday.