Boy beaten to death at church so he would 'confess sins'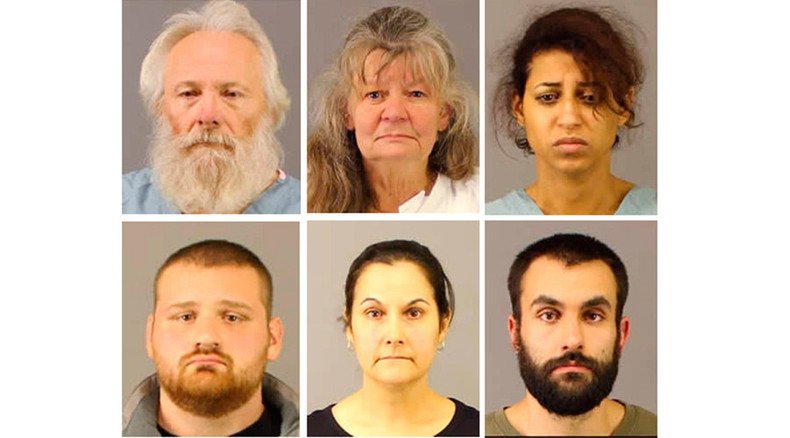 One teenager was found dead and another severely beaten at a church in upstate New York after a service on Sunday. Their parents were arrested and charged with first-degree manslaughter.
Lucas Leonard, 19, died of his injuries on Monday afternoon. Those included "multiple contusions" of the torso and extremities, New Hartford Police Chief Michael Inserra said during a Wednesday news conference. Christopher Leonard, 17, remains in serious condition.
Lucas was taken to a hospital by family members, who falsely told doctors that the teenager had suffered a gunshot wound, police said. His injuries were consistent with blunt force trauma to his torso and extremities, according to Reuters.
READ MORE: Philadelphia cops caught beating, kicking black man as he screams for help (VIDEO)
"Both brothers were continually subjected to physical punishment over the course of several hours, in hopes that each would confess to prior sins and ask for forgiveness," Inserra said.
The beatings took place during a counseling session inside the "sanctuary room" after a service at World Life Church in Hartford, New York. Police said the parents and four other parishioners used their fists and feet in the beatings.
The victim's parents, 65-year-old Bruce Leonard and 59-year-old Deborah Leonard, were arraigned on Tuesday and pleaded not guilty to first-degree manslaughter. Their bail was set at $100,000 each.


"We're not alleging they intended to kill their son," Scott D. McNamara, the Oneida County district attorney, said at a news conference, as quoted by The New York Times. "We're just alleging they were trying to seriously hurt their son, and ultimately he died from those injuries."
The other four parishioners – David Morey, 26; Linda Morey, 54; Joseph Irwin, 26; and the victims' sister, Sarah Ferguson, 33 – have been charged with assault.
Deborah Leonard's lawyer argued that she felt helpless to stop an intervention that spiraled into violent punishment by others who actually carried out the beatings, her lawyer Devin Garramone said Thursday.
"It looks like she went along with it, and it spun out of control," he said, according to AP. "This woman is so meek and timid, she didn't have the temerity to stand up to them and say, 'You're not punishing my kid. You're not doing this.'"
The Word of Life church has long been the subject of curiosity by the people of the town. It has very little public presence, and cannot even be found on search engines. Its parishioners have been described as reclusive and reportedly chanted at night time, AP reported.
"Why are they so secretive? Why are there no kids out playing?" said Nancy Kneller, who used to work at a Catholic church next door, according to AP.
Police are currently trying to determine if similar beatings were a regular occurrence. Additional charges and arrests are pending.
You can share this story on social media: